1923 Cadillac: Luxury and Reliability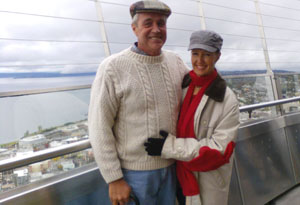 This past week I received an email from Joanne and Brando from Florida. They bought a 1923 Cadillac this week and flew to Washington to check it out. They were nice enough to share pictures with us and tell their story. Below is the emails we exchanged.
Here is the newest edition to our family, a rare 1923 Cadillac Coupe in excellent condition. The Mohair interior is perfect today, even though the restoration is 15 years old. We flew from Florida to Olympia Washington (9 hours flight!) to check it out and bought it on the spot. We then spent the rest of the weekend celebrating on Mt. Rainer and in Seattle. Classic car collecting has its perks, and takes you to so many interesting places to meet very interesting people.
That Cadillac looks absolutely amazing! Can I send it out in the next newsletter? I also think this is the first time a 1923 has been bought by one of our members. I do need pictures for the 1920's section and will probably dedicate a whole page to that year and feature your Cadillac if that is ok with you of course.
My Reply: I would love to have more details on how you found it? How did you get it home? ETC anything else you want to provide our readers is fine by me. I love this Cadillac and want to share it with everyone.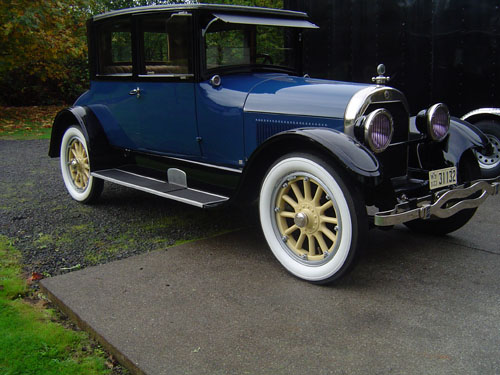 Joanne's reply: We would love for you to share our 1923 Cadillac with your readers. You asked how we got her home…we use a shipping "bid" service that works great for us. If we find a car far away, we call the service that puts out a "Priceline" type bid to the truckers who are traveling in the area and may have room on their trailer. So we often get great rates this way. We received the car in perfect condition in less than a week and from Olympia WA to Florida the cost was only $1200. That is basically less than gas cost for us!

This car originally cost over $4,000 so it was a true luxury car. One could buy 7 Model T's for the cost of this 1923 Cadillac Coupe. It has its own air compressor, helpful for flat tires, and did not need a fuel pump as it also worked off the compression. It carries 2 spare wheels, and tilt headlights with tinted lenses, all original on this Cadillac. The bud vases have hand painted flowers, and the rear windows have pull down shades.
The "jump seat" in front pulls forward so the rear passenger (presumably the wife) could step in easily with her large dress, and then the jump seat would pull back so the "gate boy" could ride along and open the gates as you left the ranch/farm. You retract the jump seat once again, so the lady could exit easily. Then when you return from your outing, you pick up the hired hand to close the gates behind you as well. There are side mounted spotlights that have a magnifying glass to light up your left and right sides of the car as well. The height of the car is impressive, and suits the men with top hats!

The car originated in Las Vegas, then spent most of its life in California. Then she ended up in Olympia Washington when we found her. We only had to do small TLC to it, as it was really well cared for. We knew we had a rare car, because we owned one similar to it in the past, a 1923 Cadillac Opera Coupe, which was even rarer.
This Coupe is one of only a few left in existence. She drives great, and will participate in the AACA Ormond Beach Gaslight Parade tomorrow night. We will drive her from Ormond Beach down A1A on to Daytona Beach, with thousands of people along the parade route. We'll try to send some photos of the parade.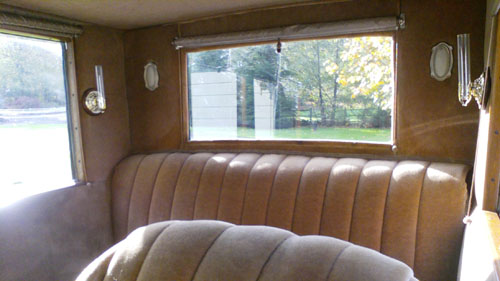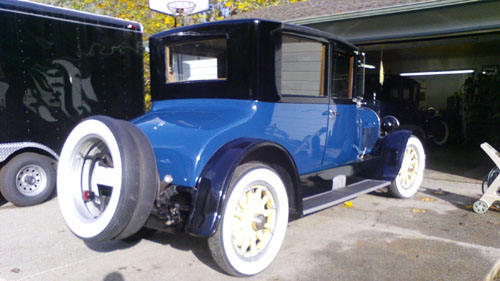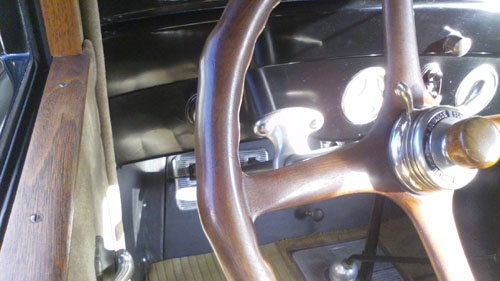 Thanks for sending in these pictures of this amazing Cadillac.