Cadillac Club: 1940's Cadillac's
Cadillac in the 1940's
A Decade of Change For The Cadillac as We Knew it.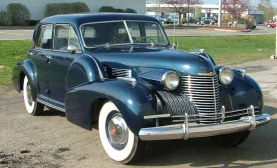 The decade of the 1940's saw the introduction of some of the most important advances and most beautiful Cadillac models. With the removal of running boards, the body could be widened for more comfort; sealed beam headlights also came into wide use during this decade. The 1940's saw Cadillac set industry trends like less chrome, or bright work, on their models, as well.
Many of the innovations in the Cadillac lineup were due directly to the creative genius of Bill Mitchell, who would inherit the position of the immortal Harley Earl. The 1940's also saw the introduction of the torpedo shape and Dagmar bumpers.
The 1940's saw the introduction of Cadillac's first fully automatic, shiftless transmission, dubbed the "Hydra-Matic Drive." With important innovations and design advances, Cadillac boosted their sales and made some waves in the automotive industry of the day, leading to many other manufacturers trying to copy Cadillac's advances to share in the profits.
Cadillac was also the first company to adopt the Phillips screw in their assembly, something the rest of the automotive world would wait years to do.
Some of the immortal models introduced in the 1940's are:
• The Sixteen
• The series 72
• Series 90
• Series 75
• The Sixty Special
• Series 61 & 62
• The Coupe de Ville
These and other models formed the backbone of the Cadillac empire. With new styles and innovative design elements like tail fins, Cadillac became the leader in luxury car sales in North America. The far-reaching impact of these design elements would be felt for decades, denoting automotive styling for a long time.
Cadillac in the 1940's had low production, predominantly due to WWII. When consumer production was once again ramped up after the war, Cadillac found themselves easily producing and selling models at their prewar levels. Soon after, the demand increased dramatically, helped by the styling advances that made Cadillac stand out from the crowd.
One of those advances was the egg crate grill, which gave Cadillac's line up a more aggressive look and was echoed in the gauge clusters a year or so later. This egg crate grill was to become one of Cadillac's true hallmarks. They started on the 1941 Cadillac.