1947 Cadillac
1947, Cadillac Returns with a Vengeance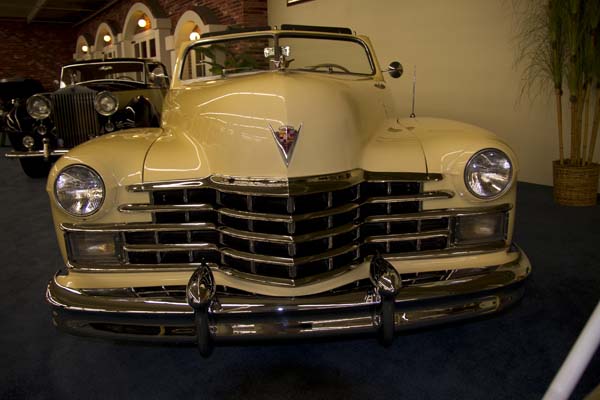 1947 was a lackluster year for Cadillac as far as new design innovations, but it marked a more than double increase in the number of units sold from 1946. Cadillac, in 1947, was a company on the rebound from war and the American economy and the public were along for the ride.
With renewed confidence in their economy and a new feeling of national pride, the American public began buying new car in unprecedented numbers and Cadillac was one of the most popular brands available. Cadillac had an excellent year, despite the lack of new models and lackluster changes to existing models.
1947 Cadillac models were:
• The Series 75 (5 different styles)
• A fastback Series 62
• A notchback Series 62
• Series 62 sedans
• Sixty Special
These models had a few superficial cosmetic differences from the previous years, like round headlights, new wheel covers and a redone front grille, but that was the extent of the changes in the lineup. With little change, Cadillac was able to regain their prewar popularity and expand their market share impressively. This was due to many factors, not least the popularity that Cadillac had gained by providing quality engines, tanks and munitions to the war effort. This proved to be an incredible form of advertising for the carmaker and paid off handsomely in the end.
Cadillac's offerings for this year were well received by the public, allowing the company to grow and prosper even more. 1947 was marked with exceptional effort on the part of the carmaker, all geared towards getting production back to the private sector. Their efforts to ramp up production were well rewarded in 1948, when Cadillac again set new trends and industry leading ideas.
With their commitment to quality and precision, Cadillac's reputation grew with each vehicle sold, eventually outstripping their luxury car competition and dooming some of them to an inglorious death. Pictured above is a 1947 Cadillac Series 62 convertible.
Cadillac managed to have amazing growth despite enormous inflation in 1947. Despite the financial problems that the economy was experiencing, people still clamored to purchase a Cadillac, a legacy from the prewar days and Cadillac's production during the war effort. Something new was coming along in 1948 Cadillac and it changed the car industry.