1948 Cadillac
1948: Enter Cadillac's Tailfin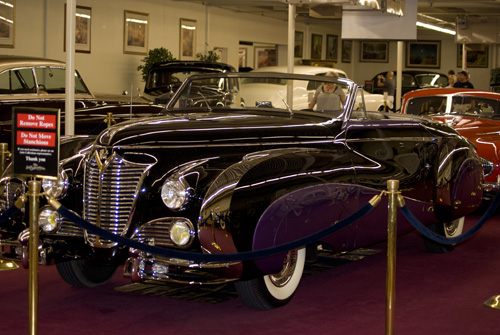 In 1948, Cadillac again rocked the automotive world with their innovative design and manufacturing process. This year marked the beginning of an era that has influenced everyone from car enthusiasts to artists. 1948 marked the introduction of the tailfin.
This simple design innovation proved to be one of the most long lasting and influential design elements in the automotive world. The tailfin marked the beginning of an era; rarely has a single design element had so much impact on an entire industry.
This influential design was inspired in part by prewar glimpses of top secret aircraft, like the P-38 Lightning. From this glimpse many design elements were developed, from pontoon bumpers to air scoop inspired headlights. Many GM cars made use of these elements, but the Cadillac tailfins proved to be the longest lasting and most loved of all of them.
There were several Cadillac models available in 1948, including:
• Cadillac Saoutchik Series 62 (pictured on the left)
• 1948 Cadillac Series 62
• Series 62
• Series 62 Club Coupe Sedanette
• Series 75
These models joined a few older models that were ending production, but the tailfin was here to stay for the next two decades. There were other innovations during this time, as well. Cadillac's grilles became even more aggressive looking through the use of larger egg crate designs, the aircraft theme was echoed inside the vehicles through stylish gauges and controls and some cars had completely new headlight designs, taken from aircraft elements.
Most of the models had extensive makeovers, including beautifully swept bodylines, more elegant hoods and those all important tail fins. Through the use of tailfins, the trunk of the car was beautified in a way never before done. It changed the way people focused on cars, rather than simply looking at the front of the vehicle to get an impression of it, now the entire vehicle stood out as a whole. Tailfins were incredibly popular right off the bat and Cadillac executed them masterfully, combining them seamlessly into the new body styles that the company was producing.
1948 was the beginning of a love affair and Cadillac stood right in the middle of the whole thing. American's loved the new look and the rebounding economy led to even higher car sales than the previous record setting year.
You can see more pictures of this classic Cadillac on the 1948 Cadillac series 62 page and the 1948 Cadillac series 62 pictures page.
Lets see what Cadillac had in store for the 1949 Cadillac.