Cadillac Club: 1951 Cadillac Restoration
1951 Cadillac Restoration
Tom from Texas - Pride and Glory
One of our newest members to the club Tom from Texas has sent us in some great before and after pictures from his 1951 Cadillac which he has restored. You may have already seen this car from one of our Cadillac newsletters which it was featured in. Here is Tom's information in the emails he has sent me.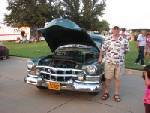 Glad I found your site, and I plan to use it as time goes on here. I have worked for a railroad for about 21 years now, and decided I needed a hobby to get my mind off the job and have another passion. I found my first Caddy in 2001 which was a 1992 Sedan DeVille and fell in love with it. I then decided to get real brave and buy a 1951 Model 62 near Corsicana that had been in storage (inside, thank God), but did not run and the engine was stuck. Well it was a good buy at $1,850 and five years later, a lot of lessons learned and about $35,000 I have my baby, which I named after the first and last owners of the car before me. It was sold new in San Salvador, Elsalvador and I am still trying to trace the history on how it got here. It ended its last career in Greenville, TX in the late 60's and then went into storage about 1980, which was the last registration.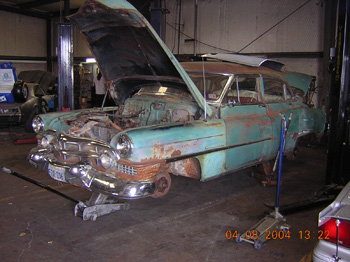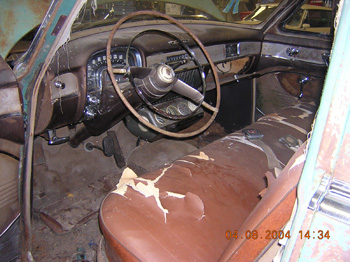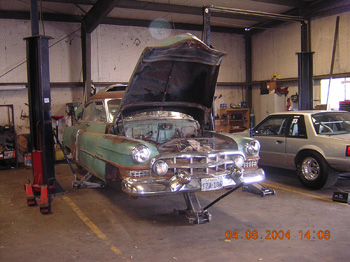 Vinny
Thanks so much for putting my email in the newsletter, and you are more than welcome to give my email address to anyone that might need help or advice on what to and not to do. I have plenty of stories on both! I wanted to let you know that there are a couple good local resources in our area that many people don't know about. I have had good luck and a good friendship develop with John Foust of Honest John's Caddy Corner in Justin, TX. He and his late associate Keith Reynolds probably were the main reason the whole project didn't come to a halt in 2005. I was more of a novice than I realized and made a number of fairly major mistakes in the beginning of my project, and their expertise and knowledge found a critical part for my 331 engine, which was the piston connecting rods. We looked for over 3 months to find some and when we did it wasn't cheap, darn close to $400 for eight of them, but we found them. There is also a lot of wonderful people on EBay that I have worked with and out of 50-60 transactions on my various Caddy projects I have never had a bad experience with anyone. Not to say they are not out there, but it is pretty rare, and some of the prices are down right ridiculously low. It makes me wonder if a lot of the sellers really know what they have. I found an English speedometer cluster to replace my kilo one for $35 plus shipping! Heck, a new car cluster would probably be 12-15 times that much and I still see them on sale for 50-53 for $25-75.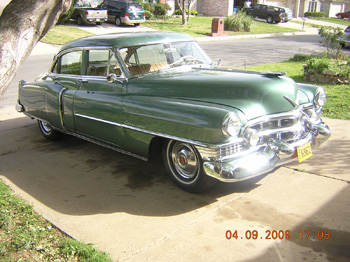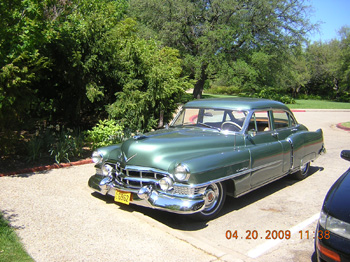 I also want to ad something that I found was an important item for restoration or maintenance on these cars. There are a lot of local mechanics who will work on these cars, but it is important to talk to the manager or owner and ask them if they have someone WILLING and ABLE to do this stuff. I have found that a lot of mechanics and shop rebuilders have more pride than common sense sometimes, and my engine rebuild got a 2 month delay because the reassembler at the engine shop wouldn't tell his boss he didn't know how to put it back together! So, I have had a couple other shops that have gentlemen that will work on old cars, but only on weekends (which may mean higher rates), or when their shop is not busy, which sometimes takes forever to get anything done. There are some reputable shops out there, but as we know the money adds up fast in a shop.
Well, if I can fill in any more blanks or be of help, please let me know.
Tom
Tom needs our help trying to get the rest of the history for this Cadillac. Here is a picture from the plate. I left it a little bigger so you can see the details. My major clue on the cars first life probably rests in figuring out what the fleet number 301 meant on the firewall. I was thinking military, government, or taxi service.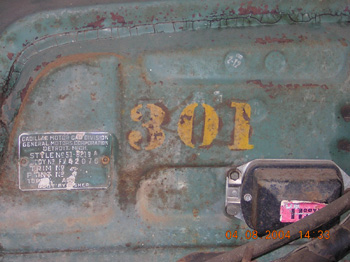 Check out some other Cadillac's from the 1950's - 1950 1951 1952 1953 1954 1955 1956 1957 1958 1959