1954 Cadillac
NEWER AND BETTER: THE 1954 CADILLAC ELDORADO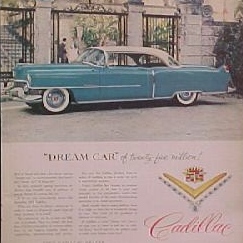 In 1953, Cadillac introduced the world to the Cadillac Eldorado however, it was featured as a "special edition" vehicle in the Series 62 line. It also cost more than $7,000 in 1953, and as you can imagine, did not sell very well, in fact a little over 500 of these 1953 Eldorados were produced. However, the public seemed to like the features and style of this car, so in 1954, the true era of the Eldorado was born. And fortunately for Cadillac lovers, the price was lowered nearly $2000, making it comparable to other Cadillac models of that time period.
There were some changes to the 1953 versions, though, for example, the wheelbase was nearly 3 inches longer in the 1954 Cadillac Eldorado, as well as the overall weight of the car was heavier. In 1954, the Cadillac Eldorado lost its unique sheet metal, sharing its basic body shell with standard Cadillac's. Distinguished now mainly by trim pieces, this allowed GM to lower the price and they were rewarded with a substantial jump in sales.
Average sales for the new and improved Cadillac Eldorado quadrupled from the previous year and many Cadillac fans found themselves a friend for life, and the Cadillac Eldorado remained a popular model for years to come. Other identifying features of the 1954 Cadillac Eldorado were the numerous script nameplates that appeared on both rear corner pillars of the luxury hardtop, as well as gold crests that were centered behind the air-slot fenders. On the Eldorado convertibles, monogrammed plates on the doors were featured, as well as embossed Cadillac emblems on the leather seats.
In other words, if you weren't sure of what you were driving at the time, Cadillac wanted to make sure you knew. The word Cadillac appeared on most cars an average of 2 to 4 times. The lower body style from the special edition 1953 Eldorado remained unchanged for the New Year, a sleek body, cellular grille insert, an inverted front bumper, and a tapered style bumper rounded out the features for this 1954 Cadillac classic.
The Cadillac Eldorado remained a stable for Cadillac lovers, from the early show days of 1953, to the introduction of the 1954 Cadillac Eldorado to a wider based public; this car has remained popular and loved by Cadillac owners, unfortunately, the year 2003 marked its fiftieth anniversary, as well as the end of the road for the Eldorado.
Check out some other Cadillacs from the 1950's - 1950 1951 1952 1953 1955 1956 19571958 1959