1956 Cadillac
THE NEW BREEDS: THE 1956 CADILLAC MODELS
In earlier years, Cadillac had introduced the Eldorado and remarkably sold thousands to the Cadillac loving public. However, as time went on, Cadillac decided to introduce a more luxurious Eldorado package, and so enters the 1956 Cadillac Eldorado Seville. By all other means, the true Cadillac Seville started as a 1956 two-door hard top, not a four-door Sedan. However, the word Seville was synonymous for luxury and performance.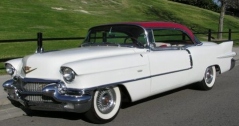 The other option for Cadillac Eldorado lovers was the convertible style, now known as the Cadillac Biarritz. Distinguishing features such as the new and larger hood ornament and the chrome saddles added to the doors were one-of-a-kinds to these Cadillac owners. However, sales for the Eldorado Seville package surpassed the Biarritz by an astounding amount, in fact selling overall 2 to 1. The overall wheelbase for the 1956 Eldorado Seville was 129 inches, with a total length of over 222 inches making it one of the longest rides available to Cadillac lovers. The first year of sales for the Seville topped out at just fewer than 4000 units, not bad for a 1956 car that costs an average of $5500.
The overall mechanical structure of the 1956 Eldorados were improved, as well. For example, they were equipped with two carburetors. The overall engine size was increased for the first time in over 15 years, still the use of the HydraMatic transmission was utilized, however, it too underwent an overhaul increasing its size and smoothing out itís shifting capabilities.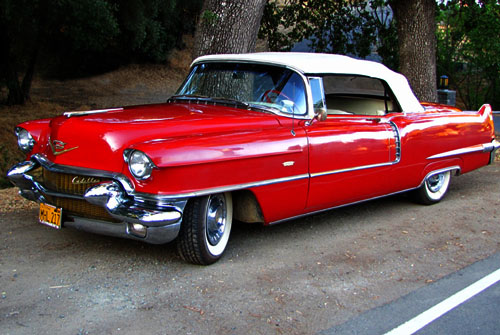 This year also saw another new line of Cadillacís, the 1956 four-door hardtop Sedan known as the de Ville. Cadillac lovers flocked to their dealerships to purchase this long sleek automobile. Both the Cadillac Eldorado Seville and the new Cadillac Series 62 Sedan de Ville were introduced to the public a month prior to all other Cadillac models, their introduction was well received. In fact, a great part of Cadillacís success that year can be attributed to the sales of these two vehicles.
That year Cadillac outsold all other luxury car brands, including the Lincoln and the Imperial. The 1956 Cadillac models set new record highs for this year, competitively moving them into the fight against all other American made cars. Pictured on the left is a 1956 DeVille Convertible sent to us by Dave.
Other minor changes such as a finer textured front grille and repositioning of the headlights were also introduced to other models of the 1956 Cadillac, other options such as chrome or gold finished moldings and ornamentations were also available.
Check out some other Cadillacs from the 1950's - 1950 1951 1952 1953 1954 1955 1957 1958 1959