1957 Cadillac
THE 1957 CADILLAC OF LUXURY: THE BROUGHAM
Throughout the fifties Cadillac kept increasing their own standards taking ideas from their show cars of earlier years and incorporating them into the 1957 Cadillac models. One of the most expensive cars ever produced in this time period was the 1957 Cadillac Eldorado Brougham, price at over $13,000, rivaling the Rolls Royce in price, but not style. The look of the 1957 Cadillac Brougham outshined the Rolls Royce completely. The Cadillac Eldorado Brougham was mirrored after the 1954 and 1955 show car combinations known as the Eldorado Brougham, Orleans, and the Park Avenue. The 1957 Cadillac Eldorado Brougham was a compact car with only a 126-inch wheelbase.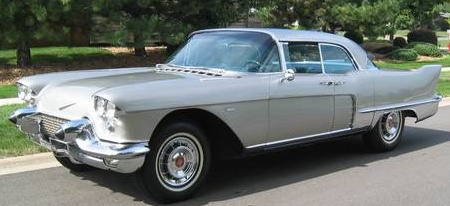 One of the most fascinating features that this Cadillac had was a brushed stainless-steel roof, as well as the introduction of the air ride system, a new suspension system that offered the Cadillac owner a smooth and seamless ride compared to the traditional coil spring systems in all other Cadillac's. However, this new air suspension system was regarded by many as being finicky, unreliable and expensive to repair, the Air Side system of many Eldorado Broughams were retrofitted with conventional coil springs.
After four years of use, the air side system was discontinued and the coil springs became standard again. As well, the introduction of quad headlights was also standard for all Cadillac models in 1957. But ironically these headlights were illegal in some states.
Both power brakes and power steering were also standard features on the Cadillac at this time on the Eldorado and Sixty Specials a new six-way power seat was an optional feature, as well. All Cadillac Eldorado Broughams were available with air-conditioning, radios, and heaters. These cars had extensively beefed up engines, as well, a two four-barrel carburetor and a tri-power V-8 rounded out the mechanical updates for the Brougham.
One of the most distinguishing features for the 1957 Cadillac was the introduction of the "shark fin". This tail fin treatment protruded like sharp razor blades from the slender down curving rear fender.
The 1957 Cadillac Brougham was declared the ultimate in luxury; however, because of its expensive price tag, not many were sold for the first two years of production, and in fact only a total of 704 were sold in 1957 and 1958 combined. In 1959, the Brougham got a complete overall and all production was moved to Italy. You can see some more 1957 Cadillac pictures that Wayne sent in from New Zealand.
Check out some other Cadillacs from the 1950's - 1951 1952 1953 1954 1955 1956 1957 1958 1959