1958 Cadillac - Shark Fins Going Up.
One of the major facelifts that the 1958 Cadillac received was a much larger and an unmistakable larger tail fin. The shark fin propelled out from the rear like some kind of jet wings, not to mention the overwhelming amount of chrome embellishments and overlays. The Series 62 1958 Cadillac received a hardtop sedan with an extended rear deck. All models that year were available with new cruise control features, radios, and an automatic parking brake. As well, all Cadillac models that year had standard four-headlight systems, like the one seen earlier in 1957 with the Brougham.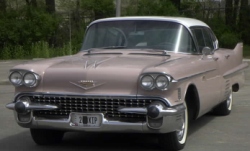 The performance of the Eldorado improved in 1958 with the introduction of a three two-barrel carburetor, which boosted 335 horsepower. Unfortunately, the recession played havoc on Cadillac sales in 1958, for the first time in over 5 years, sales had dropped dramatically.
The expensive Cadillac Eldorado Brougham saw new interior and exterior changes as well, however, most were cosmetic. The interior door panels were now lined in leather, the wheel covers were different from the 1957 model, as well, custom orders for the car allowed the owners to choose from a variety of trim packages, forty-four to be exact. In addition, the Cadillac Eldorado Brougham owners were allowed to choose from 15 different paint colors for their custom made ride.
However, the price of the Eldorado Brougham was still outrageous, at over $13,000, and needless to say, only a little over three hundred cars were produced that year. This was also the final year that the Cadillac Brougham would be produced in the United States, the following year all production for this vehicle was moved to Italy.
That same year, a new innovation was also introduced to several of the Eldorado Biarritz Convertibles although specifically for show only, five of these beautiful cars were equipped with a humidity sensor which could sense rain droplets was installed, when the sensor detected the rain drops, it automatically closed its convertible top.
Regardless if the overall drop in sales was due to the outlandish look of the new 1958 Cadillac or because there was a nationwide recession, one can only guess. However, there is one thing for sure, sales for the Cadillac decreased overall for all models, in fact there were only 121,000 units produced that year; nearly 25,000 less cars than the previous two years. If you are a fan of the 1958 Cadillac I suggest you check out the 1958 Cadillac Owners Association.
Check out some other Cadillac's from the 1950's - 1951 1952 1953 1954 1955 1956 1957 1958 1959