1962 Cadillac
THE 1962 CADILLAC…60 YEARS OF LUXURY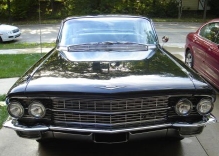 In 1962, the Cadillac was celebrating its 60th year as being the standard of the world. For the most part, however, the overall look of the 1962 Cadillac was not much different than the year before. Bill Mitchell, the head design engineer for Cadillac, was still trying to rid the Cadillac of its extreme look from the late fifties, though. And as a result, the 1962 Cadillac did have a toned down look. Headlights included still even lower fins, and a new front fender corner light was a new option for the 1961 Cadillac.
Once again the grille and front fender was refined and less bulky than in the years past. Such mechanical features like a new dual master cylinder braking system was incorporated into the 1961 Cadillac, as well. The new separation of the front and rear hydraulic lines that appeared on the 1961 Cadillac's were also new and put into production.
The Cadillac Eldorado Biarritz convertible still remained a figment of other Cadillac's, not an exclusive model like in its earlier years. And as a result, the total amount of these cars sold were minute, in fact only a little over 1400 of these vehicles were produced; even though overall sales and production was up for the 62 models. All convertibles had the standard powered convertible soft top roof, as well.
In all reality, the Cadillac was taking on a new look, however, the Sixty-Special Fleetwood did stand out among crowds. There was no doubt that this car was a Cadillac of proportionate size. The unmistakable chevron slash moldings and a distinctive cross-hatched rear deck grille set this car apart from other Cadillac's.
Such stock items as a signal seeking AM radio by Delco and a power antenna were available on all 1962 Cadillac models this year. And for the first time ever, standard equipment did include a heater, as well. Options such as a six way power seat, electric powered windows, air conditioning, tinted windows, the "Guide-Matic" automatic head light control system was a feature on many Cadillac's, a remote trunk lid opener was also available and up to 4 ash trays were also available. And in fact approximately 59% of these cars sold that year did have the optional air conditioning.
There were approximately twelve different 1962 Cadillac models available this year; all had the same standard engine and transmission. Overall sales were up dramatically this year, perhaps the idea of the refined Cadillac was taking on a new life. A total of 160,840 Cadillac's were produced in this 60th anniversary year, nearly twenty five thousand more than the previous year. See how Cadillac evolved with the 1963 Cadillac.