1966 Cadillac
THE 1966 CADILLAC: HEAD OF THE PACK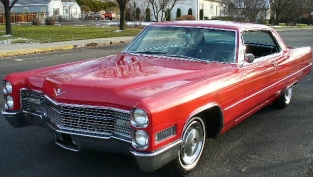 Cadillac was on a great roll in the sixties, topping out at over 200,000 cars in 1966, in fact. Although, the overall look of the 1966 Cadillac received on minor changes from the previous year, sales were tremendous and the Cadillac Company knew how to please its customer base.
Continuing to update the overall look of the Cadillac, manufacturers once again modified the front bumper and grille, and yes even the headlights were changed a little bit. The grille of the Cadillac was wide and featured a row of headlights, giving the appearance of a flattened pancake. A horizontal center bar made from shiny metal also magnified the overall look of these yearsí models. But overall the look was still long and lean like in the year before, after all, thereís nothing little about a vehicle that just comes in under nineteen feet long.
A total of twelve different Cadillac models were featured this year, all in varying degrees of three different series, the Calais, which was the former 62 Series, the De Ville, and the Fleetwood. Both the Calais and the De Ville were practically identical except for the script writing and emblems associated with the luxury De Ville. And of course, Cadillac went all out for their Fleetwood customers, making the Fleetwood Brougham a completely separate model.
New engineering innovations were also seen on the 1966 Cadillac models this year, as well. In fact, this was the first year for variable ratio steering. Other comfort and interior features like head rests, a new optional front seat with cloth heating pads were now available, and AM/FM stereos were now being put into Cadillac models. Prices for the 1966 Cadillac models also remained very reasonable, most cars were available for under $7500, which was not much different than the past price ranges.
One important detail that occurred this year was the fact that the 1966 Cadillac El Dorado was ending a long era of being a rear wheel drive vehicle. The first in its history, the luxury sedan was going to an all new front wheel drive in the following year. Not that
El Doradoís were by any means shabby, in fact, the El Dorado was one of Cadillacís best selling vehicles, itís name meant power and performance, not to mention a luxury ride. But El Dorado would still survive for another twenty something years as a front wheel drive, no need to worry. Click here to see what Cadillac has in store with the 1967 Cadillac.