1967 Cadillac
THE 1967 CADILLAC: COOL AND QUIET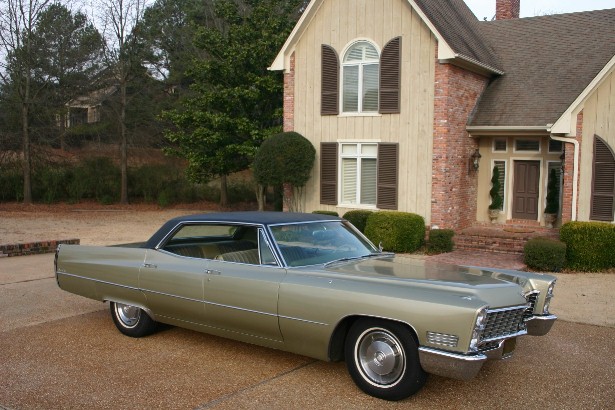 The luxury sedan buyer was in for a special treat this year, it was the first time a luxury ride was available in front-wheel drive. The 1967 Cadillac Eldorado stole the hearts of thousands that year, all because of its quiet and cool demeanor. This was no small feat for the Cadillac engineering department, though. In fact, the idea was nearly eight years old, thatís the amount of time that Cadillac spent pondering and engineering this grand idea.
Pictured is a Sedan Deville that is owned by Jim in Walls, Mississippi. It is currently for sale, you can see more information on the 1967 Cadillac for sale page.
But perhaps the best idea Cadillac had at the time was the fact that they chose a true and proven loved vehicle to carry on this new and exciting concept. Thankfully, instead of coming up with a new model that featured front-wheel drive, Cadillac decided to let their proven winner, the El Dorado, claim this fame. And lucky for all involved - it worked out great.
The overall look of the 1967 Cadillac was still long and lean, there were several external changes made, and did not take away from the fine line look. The headlights were positioned somewhat different this year, more at a forward angle.
Another prominent feature that was new to the Cadillac was the fact that the area above both rear tires received a face lift, o should we say an outer lift.
A small hump extended the outer sides above both rear tires, giving the Cadillac a very notorious feel. The rear end of the Cadillac also received a few minor changes, as well. First, a metal divider was added to separate the tail lights and Cadillac introduced a lower panel to the bumper area that was painted, something found in most automobiles in this day and age.
Although, the true hero for 1967 was the El Dorado, still the Calais and De Ville werenít doing too bad themselves. For the most part, however, the De Ville was just a sassier looking Calais, a few more moldings, a couple of nice script name plates, and a nicer and better equipped interior. But overall the looks of both these cars were pretty much identical.
The 1967 Cadillac El Dorado was perhaps the biggest mild stone in the sixties for the Cadillac Company and for luxury cars in general. A nice smooth ride could now be accomplished with this one-of-a-kind vehicle and twelve months after its introduction, Cadillac could happily say they once again topped their record in sales and production. See what was new in 1968.