1968 Cadillac
THE 1968 CADILLAC: POWER AND PERFORMANCE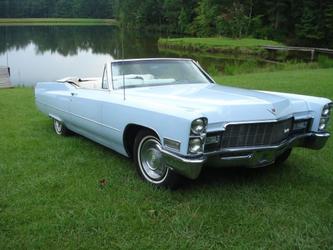 After winning the gold in 1967, you might say, with the introduction of the front-wheel drive El Dorado, Cadillac was looking for something mouth dropping for up coming years. Therefore, they turned to the heart of every automobile, the size of the engine. In 1968, Cadillac introduced an all new 472 cid V-8 with 375 horsepower. Cadillac could now boast that their vehicles had the largest production engine offered in the automobile industry.
Government standards also played a big part in the new and different Cadillac's of this year, there were new emission standards that were developed by the Environmental Protection Department, as well as federally required standards on side marker lights for vehicles, thicker interior dash padding, and non-injury interior hardware.
Other outer changes that were made this year were involving the significantly larger tail lights. The parking lamps were now combined with the turn signal lights and they were now located in the front fender. Windshield wipers were now completely hidden by an extended hood; which in turn extended the overall length of the hood to nearly seven more inches. A fine mesh now covered the front grille on the 1968 Cadillac.
Because the Cadillac models were doing so great, Cadillac adopted the train of thought that if it's not broke, why fix it. Therefore, most changes were very moderate. Instead, Cadillac added the new and bigger engine and then concentrated on options.
It seemed the Cadillac name had predominant standing in the world of automobiles, and now it was time to offer the customer more personal choices. A total of twenty different colors were available this year, and of these twenty, fourteen were all new. As well, there were over one hundred different types of interior upholstery combinations available.
The El Dorado was once again a great hit with Cadillac owners, in it's second year of production as a new and improved front-wheel drive luxury sedan. The Cadillac company sold over 24,000 El Dorado's that year, despite a nearly $400 increase from the previous year's price, most likely due to government standards and federally regulated emission standards.
The remarkable upward swing in sales for the two year old new and improved El Dorado was nearly a 37 percent increase over its first year of production. And to sweeten the pot even more, the total sales for the 1968 Cadillac models were once again record setting, now for the fourth consecutive year.
Want to see more Cadillacs from 1968 Bruce from Canada sent us in pictures of his 1968 Cadillac Coupe Deville.