Cadillac Club : 1970's Cadillacs : 1970 Cadillac
1970 Cadillac
1970 Cadillac: An Introduction To A New Era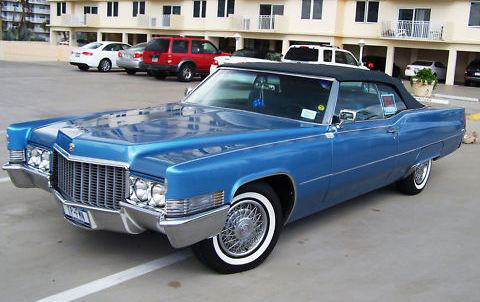 The new era began for Cadillac with a bang. Just as in the years past, the 1970 Cadillac models were full of luxury and stood apart on performance. A new and exclusive V-8 engine with a displacement of an 8.2 liter engine offered performance vehicles that marveled those of the past sixties.
The quiet and sleek Cadillac marked another record year for GM. A total of 238,745 Cadillac's rolled off the assembly line that year. Pictured on the left is a 1970 Cadillac DeVille convertible. It was sent in by Frank from Florida and he says that this Cadillac has only 56,000 miles. It is all original except the top which had to be redone about 5 years ago.
In 1970, there were five models available in eleven different choices for the Cadillac lover. The Calais was offered as a two-door hardtop coupe and a four-door hardtop sedan. The De Ville was offered as a two-door coupe and convertible, as well as a four-door sedan and four-door hard-top sedan.
This also marked the last season for the Cadillac Sedan De Ville and the Convertible De Ville. The Fleetwood Sixty-special in both the four-door sedan and the four-door Brougham, which happened to be the final year for the standard Fleetwood Sixty-Special sedan. Also the Fleetwood Seventy-five was available in a four door sedan, limousine, as well as a commercial chassis, which at the time was used for ambulances and hearses.
Rounding out the models for 1970 was the favorite for many, the Fleetwood El Dorado, which was available in a two-door hardtop coupe.
As stated earlier, the introduction of the exclusive new engine in the El Dorado Cadillac was big news. As well, was the introduction of the "Trackmaster" Skid control system, which was also available this year on the Cadillac El Dorado. There were minor body changes for Cadillac this year, with the exception of the Calais.
The facelift included a change to the front grille, new wheel discs and winged crest fender tip emblems were also all the newest features available on the 1970 Cadillac models.
Jerry from Canada sent us in a picture of his amazing 1970 Cadillac Eldorado which was a barn find. I enjoy it when a barn find becomes a customized car. I like to see cars reborn and given a new life.