Cadillac Club: 1970's Cadillacs : 1972 Cadillac
1972 Cadillac
THE 1972 Cadillac: Seventy Years as The Worlds Standard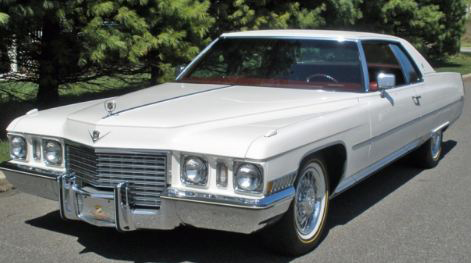 The 1972 year marked the 70th Anniversary of the Cadillac dynasty. For seven decades, Cadillac had held its title as the World's Standard for Excellence. This year would be no different, in fact, sales were record high for Cadillac that year. An overwhelming 267,787 cars were produced that year and a historical milestone included the gift of a Cadillac El Dorado to the Soviet Union Leader, Leonid Brezhnev from then President Richard Nixon.
Pictured on the left is a 1972 Cadillac Deville 26,000 miles, beautiful original white paint and a red leather interior. Very nice color combination for this years model. My neighbor use to have the same exact car. It was sent in by Bill from Pennsylvania.
Cosmetic changes were made to the 1972 Cadillac Coupe De Ville and the Cadillac Calais. These changes included the movement of the parking lights from the bumper to a centralized location between the upper and lower headlights, as well as, other safety devices such as variable ration power steering and dual power brakes with front discs.
This cosmetic change, as well as most other changes, was partly due to the fact that new Federal Government regulations were now being established regarding safety standards, in fact, most of the cosmetic and mechanical changes for 1972 were due in part or in whole as a direct relation to the changing laws of the times.
One innovation that was introduced by Cadillac's that year was the new use of Fiber Optics. For the first time in history, the head and tail lighting system could tell the driver the status of the lamps, due to the use of fiber optics.
The 1972 Cadillac year marked another milestone for the history books, as well. In October of this year, the four millionth Cadillac was developed and put onto the roadway. Seventy years and 4 million cars later, Cadillac was going strong and setting new records continuously. The next year would mark even more sizeable production gains boasted in part by the revived look of the Cadillac El Dorado Convertible.