Cadillac Club: 1970's Cadillacs : 1973 Cadillac
1973 Cadillac
1973 Cadillac - 5 Million and Going Strong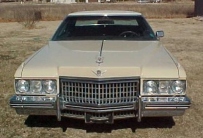 This year marked another milestone for Cadillac, the five millionth car rolled off the assembly line on June 27th of that year; it was a blue Cadillac De Ville sedan. Another Cadillac milestone this year was the record production of over 300,000 vehicles.
Cadillac was still fronting the luxury car industry, this year with the availability of five different models. This included the Cadillac Calais, which was the entry level Cadillac. The Calais was available in both a two door hardtop Coupe and a four-door sedan hardtop. The De Ville, which was available in a two-door Coupe and four-door sedan, featured bright body underscores with rear extensions. De Ville signature nameplates were featured on the rear roof pillars.
Next Cadillac offered the Fleetwood Sixty Special Brougham four-door sedan, which included all of the De Ville features with different body underscores. Also the Brougham featured a four window, rounded corner roof styling, with extra wide center pillars; the Brougham also featured tires with pencil thin whitewall bands. Another Cadillac that was featured this year was the Fleetwood Seventy-five; this car was available in a four-door sedan, a four-door limousine, and a commercial chassis version that was used in ambulances and hearses. The Fleetwood
El Dorado rounded out the models for Cadillacís that year. The El Dorado was once again offered in both the two-door Coupe and the popular two-door convertible. The front-wheel drive El Dorado was completely restyled this year. Changes included the new look of an egg crate like grille, as well as an angular front bumper with wrap-a-round parking lights. The rear bumper was flatter and much straighter than the years before. As well, chrome housed the vertical tail lights that slanted forward at an angle with the fender.
The 1973 Cadillac models were still undergoing safety changes that were required by federal law. One of the biggest changes made to all Cadillacís this year was the use of new energy absorbing bumpers.