Cadillac Club: 1970's Cadillacs: 1975 Cadillac
1975 Cadillac
1975 Cadillac History… "Introducing the Seville"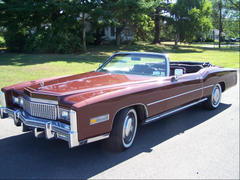 The year was 1975 and Cadillac decided to make an old favorite new again. As a result, the name Seville entered the Cadillac line-up once more. It had been fifteen years since Cadillac used the name Seville on their model line-up; however, this Seville was different than any other Cadillac. For one, its overall length was 27 inches shorter than other Cadillac models, as well, the overall width was eight inches smaller, and overall weight for the Seville was some 800 pounds less than other 1975 Cadillac models.
Although smaller than other 1975 Cadillac models, it was still priced above all others, except the Fleetwood 75 Series, at over twelve thousand dollars, this V-8 luxury ride was full of options that rivaled its competitor, the Mercedes-Benz.
Cadillac still boasted their other models this year, the Calais, the De Ville, the Fleetwood Brougham, the Fleetwood Seventy-Five, and the Fleetwood El Dorado. However, this year did mark the end of the Fleetwood Sixty Special. The overall look of the El Dorado was changed a bit, the rear fender skirts were now a thing of the past; and square shaped headlights were the newest look.
Luxury packages were available on the El Dorado and the De Ville, the d'Elegance package, the Cabriolet, and the Talisman was a favorite for Cadillac customers that boasted luxury and self indulgence.
Even with the recent oil crisis, the prices of the 1975 Cadillac models were for the first time soaring at rapid rates. In fact, this was the first year that prices actually surpassed earlier Brougham prices from the late fifties and early sixties.
As an effort to combat the high demand of petrol this year, Cadillac introduced a lower axle ration which was used to improve fuel mileage. This new innovation and the introduction of the smaller Seville proved profitable for Cadillac, as a matter of fact, the Cadillac industry had a great 1975, a total of 264,731 vehicles were produced and making their way onto America's highways.