Cadillac Club: 1970 Cadillacs : 1976 Cadillac
1976 Cadillac
THE 1976 Cadillac - Downsizing The Luxury Ride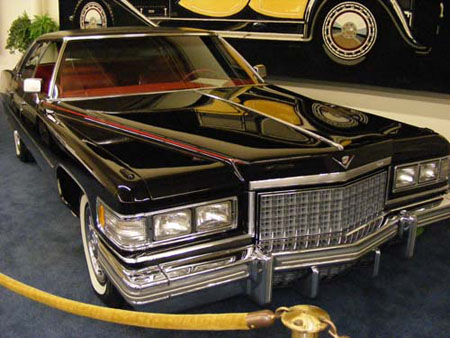 The 1976 Cadillac models remained the standard for excellence when it came to domestic luxury rides, however, the company had seen better days. Now, Cadillac had to compete with the luxury market that was being dominated by European auto makers. As a last ditch effort, Cadillac introduced the Seville in 1975 and found that perhaps this was the Cadillac of the future.
It was smaller and more compact than other Cadillacís but still boasted a fuel injected V-8; even if it wasnít the biggest V-8 that was housed in other Cadillacís of the day, it still competed nicely with the Mercedes-Benz. As a result, Cadillac seemed to down-size its overall models this year, as well, as its overall size of vehicle.
Downsizing meant the elimination of the entry level Cadillac, the Calais. This huge ride was in itís last year of production, however, Cadillac did leave the almighty Fleetwood and De Ville modelís intact for their Cadillac customers that still preferred the huge barge look over the more secluded compact vehicles.
Perhaps the most disheartening news in 1976 regarding the Cadillac was the loss of the legendary Cadillac El Dorado Convertible. The final front-wheel drive Cadillac convertible rolled off the production floor in 1976, and if your pockets were deep enough, you could have been a proud owner of one of these one-of-a-kind rides.
As the convertible made its final debut, Cadillac introduced the Astroroof as an optional feature. Although, making its true debut the year before, the optional feature became a favorite to convertible lovers that couldnít afford the retiring El Dorado Convertible. This was also a much safer option to the convertible; it offered the feeling of open-air without the safety concerns. This year also boasted a new look for Cadillacís, the 1976 Cadillac models could be purchased in a selection of 15 different standard colors, and for a little more cash, you could own a Cadillac in a optional Firemist color. You can see more pictures of the Deville pictured on the left on our 1976 Cadillac Sedan Deville pictures page.