Cadillac Club: 1970's Cadillacs : 1977 Cadillac
1977 Cadillac
1977 Cadillac… Changes Were In The Air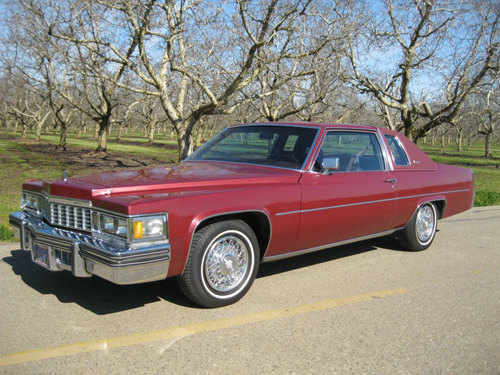 The year before had marked the end of an era for Cadillac, the El Dorado convertible was now a thing of the past, as well was the once popular boat-like Calais'. After downsizing dramatically, the following year meant changing some old favorites.
In fact, the 1977 Cadillac models received some major overhauls. In Cadillac's words, these 1977 model's were "engineered from the ground up".
Pictured on the left is a red 1977 Cadillac Deville which was sent in by James from Southern California. It has 36,000 original miles and kept in garages its whole life. This would explain the great condition it is in after all these years.
Changes were made to both the outer appearance of the Fleetwood and De Ville models, as well as, a complete over haul of the Chassis, suspension, and engine. As a result a much roomier De Ville and Fleetwood erupted, one that rivaled the interior of a hotel room, even better, these newer and larger interior cabins were even outfitted with a state of the art instrumental panel; known as the "central control area".
Although, the Seville remained the smallest Cadillac available at the time, its other counterparts were catching up with it. Still, the Seville did manage to make some of its own changes this year. A new vertical grille was seen with more rectangular shaped headlights and the introduction of the amber colored parking and turn signal lamps was introduced, as well.
This was the seventy-fifth year of production for Cadillac, and a milestone for the history books was the end of the hardtop pillar less body style, this also marked the end of the use of the 472, and a new 429 was the new power plant for Cadillac. Overall sales for the 1977 Cadillac models were up from the previous year.
A total of 328,129 Cadillac's left the showroom floors this year, this was nearly 10% more than the previous year. It seemed the new changes were going well for Cadillac even if it meant the end of a large era and the beginning of a much smaller and compact chapter of automobile history