Cadillac Club: 1970's Cadillacs : Earle's 1978 Cadillac Flower Car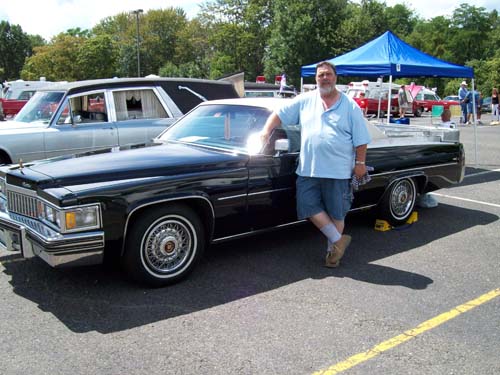 Earle's 1978 Cadillac Flower Car
My fascination with Professional Cars, especially the Cadillac based ones goes back to when I was seventeen years old and looking for my first car. I was out car shopping with my trusted friend, Rick and we spotted a 1952 Cadillac Hearse.
It was black and shinny and I loved it. Later that day a '57 Chevy hardtop, 283 and dual exhaust for half the money turned my head. I have often wished I had gone with the Caddy.
After school (1968), I enlisted in the Air Force, married my high school sweetheart, (40 years this March) and started a family. Over the years I occasionally would mention that I would like to have a Hearse for a collector car.
My normally passive spouse became a different person when I brought up the subject. She steadfastly refused to agree to a Hearse and over the years she held her position. A couple years ago I casually mentioned that I would like to look for a Flower Car, and patiently explained that it was not a Hearse. She kind of shrugged and made no comment. I don't think she took me seriously.

Within a couple of weeks a coworker told about a flower car he had seen on e-bay (of course). I checked it out, asked many questions of the seller and in the final seconds of the bidding, my e-bay 'agent' and good friend Dave won the bid by twenty dollars.
Since the car was in Port Richey, Florida, and I did not want to wait for a shipping company's schedule to bring the car to central New England, I set up with two of my brothers to join me on a 'mad dash' from New Hampshire to Florida and back.
We made the round trip in less than three days and came home with a nice example of a 1978 McLain Coupe DeVille Flower car.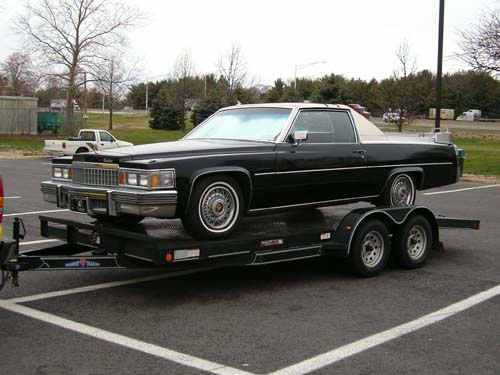 When my wife saw it and agreed that it was not a Hearse, and then realized that we needed several flower arrangements to set up a show display, she came on board. We spent a couple weeks locating enough artificial flowers to fill the back of the Caddy, and set them up in a pattern that we liked.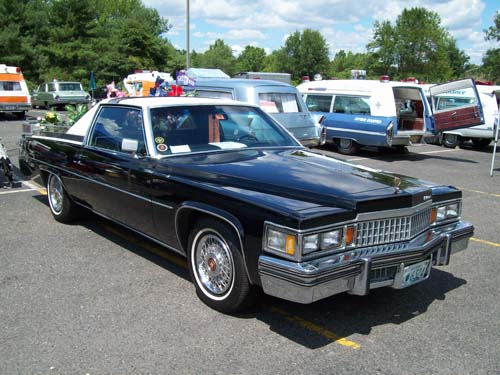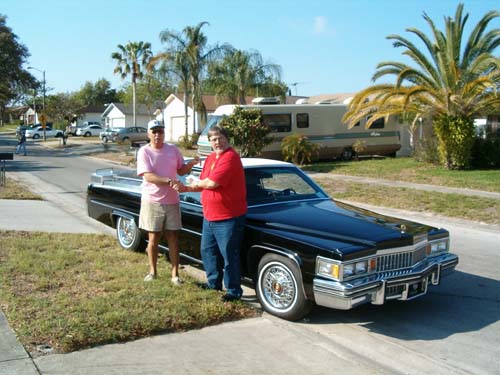 The first local show we went to we took a people's choice award, and we were hooked. I especially enjoyed going to shows with my brother and his
El Camino. We would park side by side and tell people that my car was an "El Cadmino". Some people believed us so willingly that my brother, who had an inventive streak, would go on an on about the story behind the car. It was all a fabrication of course, but we had some harmless fun.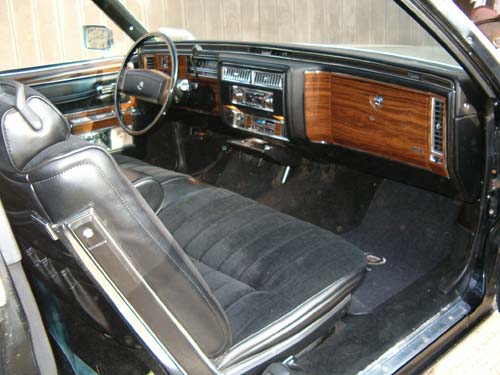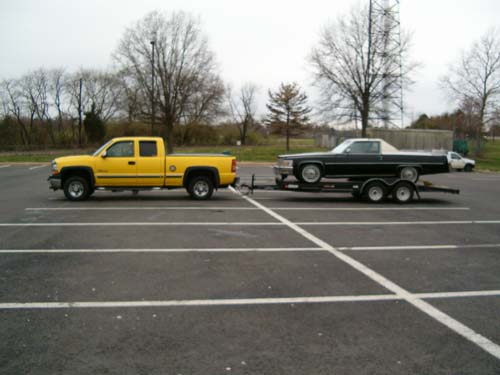 About a year ago I looked into the Professional Car Society, a group for owners of Pro Cars. Pro Cars are generally Ambulances, Hearses, Limos, Flower Cars and some other special built cars for specific purposes.

This past summer I attended the Pro Car International Meet held in Mt. Laurel NJ. This was my first such show and although there were other makes represented, Cadillacs were the overwhelming marque at the show. I have had a lot of fun with my unusual Cadillac and look forward to showing it and explaining what it is to anyone interested enough to ask. I don't have the imagination that my brother, Bob had, so I have to settle for the real story. Part of the fun of owning this car is researching the history of the vehicle so I can tell a more complete story.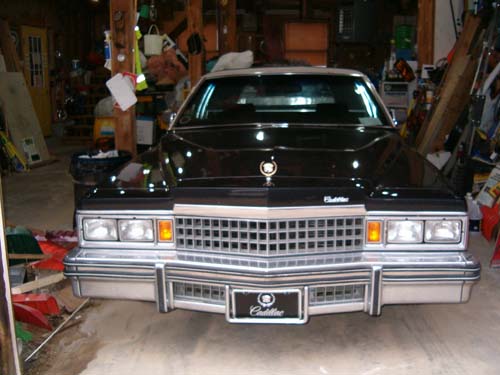 To date I have learned that my car was originally a Coupe DeVille that was built by the McLain Company of Indiana. Supposedly it was in service as a flower car right up to about four years ago. It wound up being bought by another Cadillac collector who brought it back to a higher degree of it's former glorious self. Then because of a loss of storage space he had to reduce his fleet, and chose to sell the Flower Car.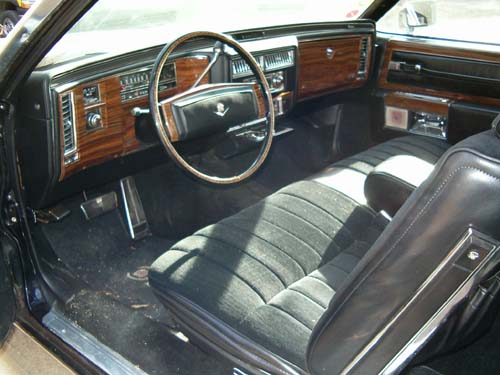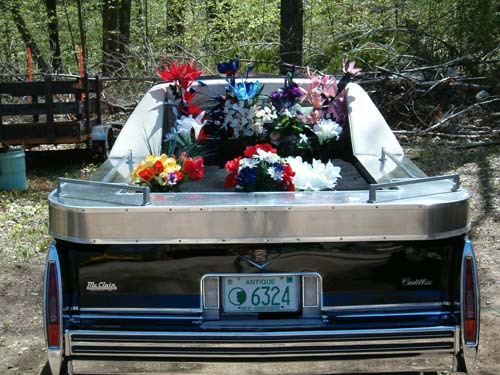 When I picked the car up from him it had just over twenty five thousand miles on the odometer. Everything under the hood is factory original with the exception of the battery and fan belt. The car is equipped with power seats, windows and mirrors. It has a high end stereo and climate control a/c. All accessories work, even the clock.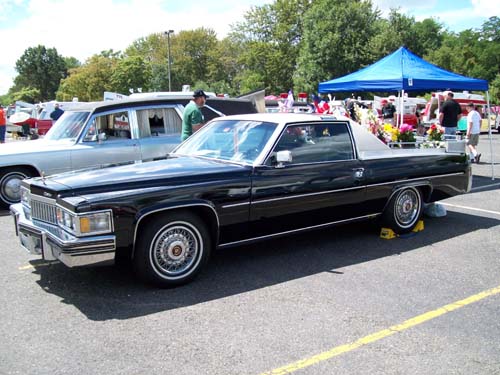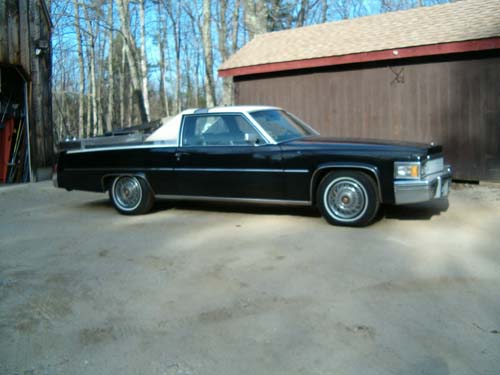 The 425 Cadillac power plant runs like new and moves the four thousand pound car around effortlessly. The business end of the car is a stainless steel tub that was used to transport the floral displays from the church to the cemetery. The car drives, rides and handles like a true Cadillac. It is a joy to drive and I like turning heads when I take it down the road. When you are behind the wheel and looking out across that massive hood you feel like you have stepped back in time, and with cars like this, what a great time it was.