Cadillac Club: 1970's Cadillacs : 1978 Cadillac
1978 Cadillac
1978 Cadillac - The Year of The Computerized Car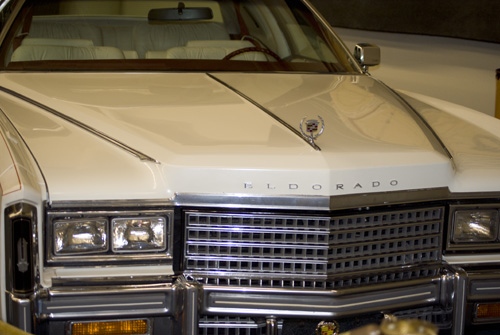 Throughout the mid seventies it seemed Cadillac had been changing the outward appearances of their vehicles, so in 1978, the lean was toward the cars of the future. As a result, Cadillac introduced the new trip computer option.
An eleven digit display that included the average speed and miles per hour, miles to a specific destination, estimated arrival time, engine speed, coolant temperature, and voltage, nothing less than the manifestation of computerized cars of the future.
Other firsts for Cadillac's this year included the all new 1978 Cadillac diesel V-8, although making its appearance late in the year, the Seville diesel proved to be less profitable than first predictions.
Pictured on the left is a 1978 Cadillac Eldorado Biarritz that was taken at the Imperial Palace auto collection show in Las Vegas. I love the big chrome front. As you can see this Cadillac was kept in great shape. This Cadillac only had 54,900 miles on it. What cracks me up is it came with an 8-track. Funny how times change over the years isn't it.
Other changes made this year to the Seville included a new bumper guard, an engraved chrome insignia on the tail lamps, as well as a painted accent stripe that gave a wider and lower overall appearance. The De Ville and Fleetwood saw some changes as well this year.
A new, bolder grille pattern that featured the centralized license plate was featured along with a new solid colored wreath and crest hood ornament.
Back bumpers were now seen on the De Ville's and Fleetwood's, along with a back light located on the rear window. Other model's for the 1978 Cadillac line up included the El Dorado, a two-door hardtop Coupe with a bolder horizontal crosshatch grille. All Cadillac's except the Seville carried a standard 425cubic inch V-8.
Cadillac celebrated another record year in 1978, as well. The second highest Cadillac total ever was calculated this year, a whopping 349,684 vehicles left the production floors. Seville's and El Dorado's was the top grossing Cadillac's for this year. With the rumors flying regarding the downsizing of the El Dorado for the next year, the 1978 Cadillac El Dorado became more popular than ever.