Cadillac Club: 1970's Cadillacs: 1979 Cadillac
1979 Cadillac
1979 Cadillac History - Changes in the El Dorado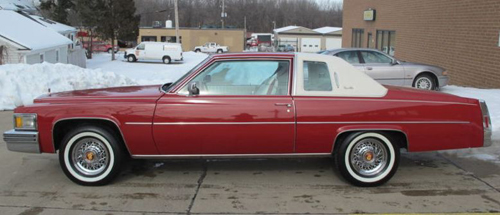 The biggest news for Cadillac in 1979 was the changes that were being made to the El Dorado. The once larger than life El Dorado was now being advertised as the "New Breed of El Dorado". The 1979 Cadillac El Dorado was much smaller than ever before, in fact, the overall size of the El Dorado compared to the 1978 version was 20 inches shorter and 8 inches narrower.
Even more overwhelming was the lightness of the new Cadillac El Dorado, an astonishing 1150 pounds lighter than before; ironically, the interior was rumored at being overall larger and roomier than ever before. Looks like the engineering guys at Cadillac had been very busy planning for this new arrival.
Pictured to the left is a 1979 Cadillac Deville which was sent in by Julie from Boston Massachusetts.
The Seville's diesel engine that was introduced the year before was reeking havoc on Cadillac. Once thought to be the newest and best innovation in automotive concepts, the diesel engine proved troublesome and costly for owners. Standard engines in the Seville remained the 350 cubic inch 5.7 liter V-8 with electronic fuel injection, now rated with 170 horsepower.
Cadillac offered the Seville in a special addition this year called the Elegante. This two-tone colored Seville featured accent striping and full length side moldings with etched black grooving, plus a painted metal roof. To top off the special and limited edition, chrome plated wire wheels with long laced spokes were added.
Once again the optional Trip computer planner was available on the Seville's and this year Cadillac also made this option available on the El Dorado's also. This state of the art computer displayed digital average speeds, miles to destination, engine speed, estimated arrival time and elapsed trip time.
Other options available for the 1979 Cadillac model's included electronically adjustable dual mirrors, an automatic and fully retractable radio antenna, plus an eight track and cassette tape player, and for those that still needed more communication power, a built in 40 channel CB was also available.