Cadillac Club: 1980s Cadillacs : 1981 Cadillac
1981 Cadillac
1981 CADILLAC - CHANGING TIMES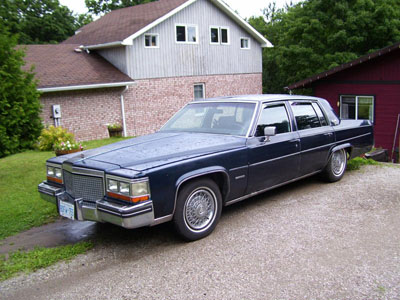 Times were changing and so were the Cadillacís variable-displacement gasoline engine, this one of a kind engine could run the Cadillacís engine on fluctuating V8, V6, and 4 cylinders, all depending upon driving conditions at any specific time.

The main idea behind the 8-6-4 engine was to conserve fuel, due to the rising costs of gasoline. This new automatic shifting in cylinders was a first for the Cadillac market and was standard on all 1981 Cadillac models except the Seville.

This new innovation allowed large luxury cars the ability to compete with smaller compact vehicles that offered the consumer fuel economy with little regard to comfort. Now, savings could be had with a large luxury vehicle. Not only could you save money on gasoline but you could do it in the comfort of a large vehicle that offered roominess and a smooth ride.

Although the concept was innovative, the problems surrounding the new engine style was troublesome and proved to be rather costly for owners in the long run. As a result the 8-6-4 engine was discontinued after only one year of production.

Perhaps the biggest news for 1981 was the fact that Cadillac was underway building a 1982 Cimarron. This new model would be Cadillacís answer to the compact vehicle. It would offer luxury car accents and flare with the fuel economy and size of a more compact vehicle.

The thought of this new Cadillac intrigued engineers and consumers alike, in fact, so much that during the year of 1981, approximately a little over eight thousand of these 1982 models were already sold to Cadillac customers.

Pictured on this page is a 1981 Cadillac Deville that is being restored back to its former self by Steve who was kind enough to send in a few pictures of his ride.

The total 1981 Cadillac sales were somewhat lower than the decade before, approximately two hundred twenty-six thousand Cadillacís were sold this year. Although not an impressive year by any means, Cadillac was moving into a new decade that meant changes all around. You can see Steve's pictures of his 1981 Cadillac Deville being restored.