Cadillac Club : 1980s Cadillacs : 1982 Cadillac
1982 Cadillac
1982 CADILLAC -LUXURY IN A SMALL PACKAGE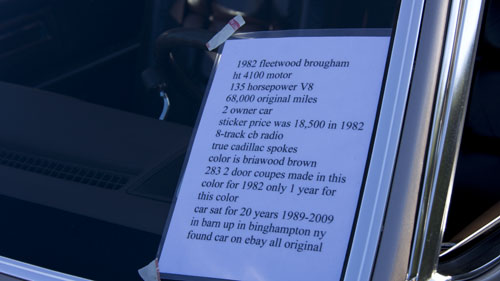 The picture on the left is of a 1982 Cadillac Fleetwood Brougham that I photographed at the East Coast Car Association show in Forest Park Queens on October 16th 2011. The color is briawood brown and it really stood out in the sun. This was the only year that this color was available on a Cadillac. The car has an interesting story as it was a barn find from Binghamton and bought on EBay from the original owner who was facing health issues and could no longer drive.
The Cadillac has a HT-4100 engine, 135 horsepower V-8 with 68,000 miles. This car was well kept in a climate controlled environment which preserved the paint to like new condition. It was a pleasure talking to the owner who is also a member of the Long Island Dreamboats Cadillac Club.
Cadillac Making Smaller Cars
The long awaited debut of the 1982 Cadillac Cimarron had finally arrived. Not only did Cadillac boast that they were the large car luxury leader, but now they were making claims to fame on the compact market. No other domestic made vehicle offered such luxury in a compact car, so in an attempt to rival the European markets that offered BMW, Audi, and smaller Mercedes versions, Cadillac introduced the world to the compact Cimarron. A four-cylinder engine and four-speed overdrive manual shift with floor lever; also available was the three-speed turbo hydra-matic version.
The overall look of the Cimarron rivaled itís sister car, the Chevy Cavalier, the finely meshed crosshatch chrome grille with quad rectangular headlights, as well as the rear with horizontal tail lights were featured on this new Cadillac. Standard options for the Cimarron included air conditioning, power windows for both the driver and passenger sides, leather wrapped steering wheel, power steering, and an AM/FM stereo radio. As well, options were available that boasted a stylish Vista Vent roof and vacuum type cruise control. Base price for the new Cadillac was right at $12,000.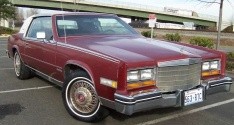 Other Cadillacís that year were receiving some improvements, as well. A new Fuel Data Panel was standard with the new HT-4100 engine. This display showed the miles per gallon fuel economy, the average miles per gallon, estimated driving range of the fueled vehicle, as well as the amount of fuel used. Most Cadillacís had an outside temperature display, as well.
Total production for the 1982 Cadillac year was 235,584. Although, not a remarkable year for Cadillac, it was one of the top sellers for General Motors that year. Cadillac was celebrating its eightieth year of being the leader in luxury vehicles. A new 4.1 V-8 boasted a lighter weight luxury vehicle that got an average of 22.1 miles per gallon, an average of 4 miles more than the 1981 Cadillac models.