Cadillac Club : 1980s Cadillacs : 1983 Cadillac
1983 Cadillac
THE 1983 CADILLAC "A Rise in Sales"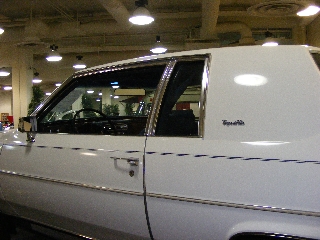 The long awaited small version Cadillac, the Cimarron, was not quite a hit like some Cadillac experts thought. Most likely, this change was due to its similarities and overall resemblance to its sister car, the Chevy Cavalier. With this said, Cadillac knew they had to make some changes, after all this was a Cadillac luxury ride and it did cost much more than the GM look a like.
Therefore, the 1983 Cadillac Cimarron received a new front end look that included halogen fog lamps alongside the license plate, as well as a lower valance panel. Other changes included the addition of aluminum alloy wheels and a finer looking front grille. The engine of the Cimarron also got a boost in 1983.
The Seville, which was priced now at over $20,000, was the most well equipped Cadillac available in 1983. Standard amenities included reminder chimes, electronic climate control with outside temperature display, automatic trunk release, side defoggers, rear reading lamps, overhead assist handles, and an automatic power antenna for the AM/FM electronic-tuned radio. All windows, locks, and mirrors were also powered.
Besides a slight change to the look of the front grille, the DeVille (pictured above) and the El Dorado stayed pretty much unchanged for 1983. Overall size of these Cadillac models remained huge for those that weren't pleased with the small compact Cadillac, the Cimarron.
It seemed Cadillac had some type of luxury vehicle to offer every type of Cadillac customer, those that enjoyed "docking" their vehicles and those that preferred the look of the "European" market. Although, the country was marveling still from the gas shortages of the last few years, it seemed that things were looking up for Cadillac.
The total sales for the 1983 Cadillac lineup was up nearly twenty-two percent from the previous year. Cadillac dealers reported that over 300,000 Cadillac's were sold this year.