Cadillac Club : 1980s Cadillacs : 1984 Cadillac
1984 Cadillac
1984 CADILLAC "Return of the Ragtop"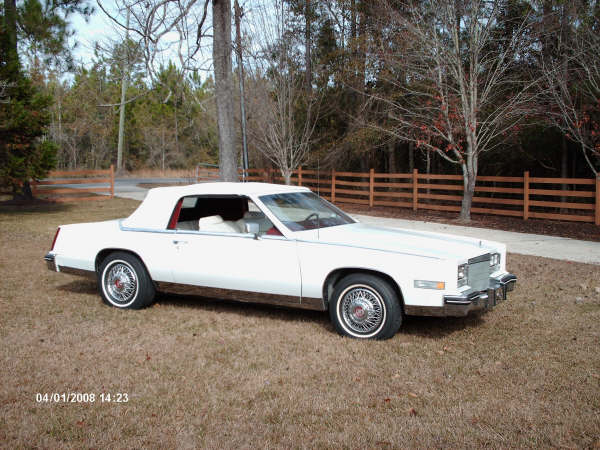 The big news for 1984 Cadillac lover was the return of the ragtop Convertible, not since 1976, when the last El Dorado Convertible rolled off the assembly line had there been a ragtop Caddy Convertible. The new Cadillac Biarritz was offered in three colors, white, blue and autumn maple, a brownish tan color. Although, the Ragtop Convertible was a great thought, it was rather a pricey one, as well.
Base pricing started at just over $31,000. This price, however, did include such amenities as chrome accent moldings, stripes, a Biarritz script nameplate, wire wheel covers, a special tufted multi-button seat design, a leather wrapped steering wheel, and a new innovation, an anti theft deterrent system.
Pictured on the left is a 1984 Cadillac Biarritz convertible that Charlie sent in and is for sale as of this writing. It is a rare white on white model that I believe only 300 were made.
Other major changes for this year included the use of fuel injected engines in all Cadillac models. As well, all the Cadillac's boasted the new HT-4100 engine, except the smaller Cadillac, the Cimarron, which still housed a fuel injected 2.0 liter four cylinder engine.
A special edition of the smaller Cimarron was first made available in 1983, but was once again available this year, the Cimarron d'Oro, a Sable Black body with gold accents. The Seville received some cosmetic changes this year, as well. For one, the Seville featured restyled tail lights and side moldings. The biggest news for 1984 concerning the larger models, the De Ville and the Fleetwood, was surrounding their new front wheel drive versions. As well, the diesel version remained optional for Cadillac enthusiasts.
Overall sales for 1984 Cadillac line-up were up a bit, in fact US dealers reported a total of 320,000 cars being sold. Although this was an overall increase of 13%, Cadillac's market share was declining each and every year. Research had shown that overall sales for the smaller Cadillac, the Cimarron, were well below perceived beliefs when the car was first introduced. In fact, the Cimarron was Cadillac's weakest seller for the 1984 Cadillac line of cars.
If you get a chance to see the show on MTV "Pimp My Ride" they makeover a 1984 Cadillac Eldorado that had been run down. When these guys pimped it up with new rims and an orange sunset paint job this Caddy was restored to the way it should look and that is good. Try to catch a rerun on MTV. The car had 24k gold rims that cost more than the car when it was new. The gold grill on the car really made it stand out too.
John from Boston just sent us in pictures of his 1984 Cadillac Coupe Deville, I hope you like them.