Cadillac Club : 1980s Cadillacs : 1989 Cadillac
1989 Cadillac
THE 1989 CADILLAC…SIX LUXURY MODELS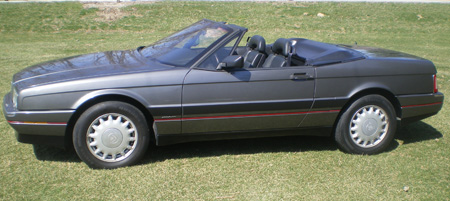 The year was 1989 and Cadillac was now refining their model selection. No longer available was the small compact luxury V-6 car known as the Cimarron. Instead, Cadillac focused on old V-8 favorites, as well as their prized two seat roadster, the Allante. Which is pictured on the left hand side of the page. These pictures was sent in by Brian McKee from Ohio who is a long time member of our club. Thanks Brian!
Some other Models of Cadillac that were available was a longer and sleeker De Ville and Fleetwood model was available, as well as the 1989 Cadillac Seville, El Dorado, and Brougham.
Cadillac claimed its cars capable of going 0 to 60 miles per hour in less than 10 seconds, which made the Cadillac the fastest domestic made luxury vehicle available.
Even Cadillac's claim to fame couldn't help them get out of their two year slump, total sales for the Cadillac division was only up a mere 250 cars from the previous year. The famed Allante received a boost in power, sporting a new 4.5 liter port fuel injected engine that had speeds capable of 135 miles per hour. Other improvements were made to the overall appearance of the Allante, including a new and improved soft top.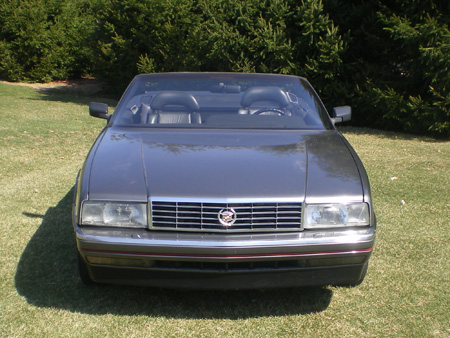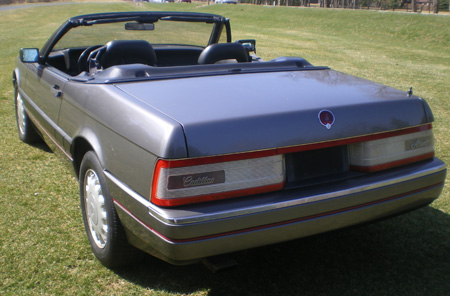 As for the De Ville, it received a newer and more spacious interior. The overall length of the De Ville increased, as well; the Sedan grew nearly 10 inches longer and the Coupe nearly 6 inches longer.
The Fleetwood was also available this year as both a Coupe and a Sedan, however, in all reality these vehicles were just series of the De Ville. The El Dorado was still a long withstanding member of the Cadillac models for the 1989 year, as well.
The El Dorado was offered in the standard Coupe style, as well as the Biarritz.
Cadillac Sedan Deville Changes
Several changes were made to the Seville, one of which included the "STS" or Seville Touring Sedan. This Cadillac featured European styling with performance of an American made luxury sedan. The STS was set apart from other Cadillac's, including a one-of-a-kind flush mounted wreath and crest that prominently set this Cadillac apart from others.
Todd from Florida sent us in some pictures of his Sedan deVille The photo shows 88266 miles, that was when it was purchased. Since then, miles are now around 89500 miles, and MPGs increased to around 17mpg
combined. This is due to New rear brake shoes, rear brake cylinders, and flushed brake fluid - New rear shocks/struts, and 4-wheel alignment. It still needs new front brake rotors and some cosmetic stuff. It has a 4.5 Liter engine.