Cadillac Club: 2000 Cadillacs : 2005 Cadillac CTS
2005 Cadillac CTS
Styling in the 2005 Cadillac CTS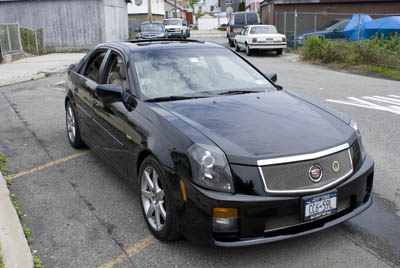 The 2005 Cadillac CTS 4-door sedan is the epitome of what a 4-door sedan should be today. It has beauty, comfort, and an engine that can get down to business. It comes in two variations, the 2.8L and the 3.6L sedan. Both have the same passenger capacity and room, but the 2.8L has a slightly smaller engine and price. For around $30,200 you can own the 2.8L, and for only around $2,000 more you can take home the 3.6L at a price tag of $32,440.
Pictured to the left is a CTS-V that was sent in by Lamont of NYC. When compared to the previous year of the CTS, you will find some slight differences. These include fuel economy and engine size. The 2004 Cadillac CTS did not come with a choice of engine, it was a 3.2L/194 for the lucky buyer. The fuel economy was slightly higher as far as highway miles with an EPA fuel economy of 19 miles per gallon in the city.
The 2005 models get 17 miles as their EPA economy in the city. As far as interior size and room go there are no differences between the 2004 Cadillac CTS and the 2005 Cadillac CTS.
Standard equipment on the 2005 Cadillac CTS includes leather trimmed upholstery and power "everything", including a power driver's seat. It also comes out with a dual-zone climate control and 16-inch alloy wheels.
The CTS has vertical headlamps and vertical tail lamps, which can be found on many Cadillac's if you research the models throughout the years. These vertical lights date back to models beginning around 1965.
Through the years the people at Cadillac, as well as many other popular car companies, have often reverted back and continued styling their vehicles with features from their earlier popular models.
It only makes sense that Cadillac would continue to do this; as well, it ensures that their popularity would continue through the years! Check out this Cadillac CTS-V video and you can see the power that this car has.