Cadillac Club: 2000 Cadillacs: 2006 Cadillac Escalade
2006 Cadillac Escalade
THE 2006 Cadillac Escalade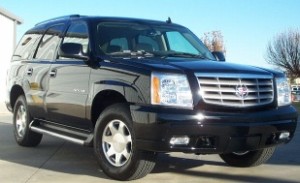 There were not too many changes made to the 2006 Cadillac Escalade, perhaps due to the fact that if rumor has it, the 2007 Cadillac Escalade will receive a complete overhaul. And in all honesty, when something is selling as good as the Cadillac Escalade; why even bother changing its overall appearance, at all? But nonetheless, the newest Escalade will most likely enter the market in late 2006. For now, the biggest changes come for the 2006 Cadillac Escalade EXT.
The truck version of this popular vehicle. A new optional feature available to EXT buyers is the automatic power sliding cover for the pickup bed. And later in 2006, the EXT will offer an optional movable load floor for easier towing and loading capabilities.
As in early models, the very fast V-8 NorthStar engine carries this monster ride across the pavement at rather fast speeds. There are base models available in both rear and four-wheel drive choices, as well as the optional model the ESV, which is Cadillacís extended version Escalade.
All models sport a great Bose audio system, automatic tri-zone air conditioning, rear park assistance, power adjustable pedals, and General Motors OnStar Navigation system. Optional features that are available on most Escalade models include a power DVD entertainment system, power sunroof, and a state of the art satellite navigational system.
Base price for the 2006 Cadillac Escalade is just under $54,000, with the added extras, the ESV, or the EXT. You will most likely pay several thousands more. But keep in mind, these large V8ís drink the gas and insurance companies frown on the thought of a new Escalade driving into one of their customerís garages.
Itís the number one stolen vehicle in the United States. But if youíre looking for a great sports utility vehicle that offers the luxurious look of a Cadillac, look no farther than the 2006 Cadillac Escalade, its sleek and big - a statement worth making. If you did not see the commercial for the 2006 Escalade check it out here it is really cool. You can also see a custom painted Escalade at Hooters Casino in Las Vegas.