Cadillac Club: 2000 Cadillacs: 2007 Cadillac XLR
New 2007 Cadillac XLR
Just seen a picture of it in Consumer Reports and I am Impressed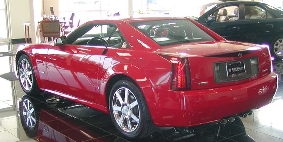 The other day I was looking at Consumer Reports magazine, the April 2007 edition. I just happen to be flipping through the pages of Cadillacs and reading the reviews and one caught my eye. It was a picture of a Cadillac XLR hardtop convertible, a shiny color that you could almost call it candy apple red. It was a stunning color to say the least.

According to Consumer Reports, the shape is based on the Chevy Corvette. Needless to say this is one sharp looking car. This new Cadillac has become an obsession of mine since I seen a picture of it in the magazine. It looks like it handles the road rather well, very low to the ground, which I like. I guess the word I'm looking for is sleek.

I will be going to the New York auto show at the Jacob Javits Center. It starts in April, I think it's April 6 and lasting a week or so till about the 15th or the16th. I am hoping that they have one of these Cadillac there, but I doubt it as it is almost time for 2008 Cadillac to come out.

If you're not a regular subscriber to Consumer Reports, I suggest that you join. Along with my subscription, they sent me the 2007 buying guide, it has a load of information. Not just about cars, but everything from the most energy efficient kitchen appliances and other household stuff, I'll use it to buy myself a new refrigerator. I'm sure it'll save me money it is well worth the price of the subscription.

Take the new Cadillac out for a test drive

I may have to go to my local Cadillac dealership and take a test drive. I haven't done that in a while with any Cadillac. I think the last time it was around 2004. I can't say enough about the looks of this car. I am like a kid in a candy store just looking at the magazine. I can't wait to actually get my hands on the steering wheel, it should be a lot of fun. and yes I plan on taking photo's at the show and share them with you all.
I'm not sure that driving a Cadillac around the streets of Manhattan can be that much fun, but I'm sure I'll make the best of it. Avoiding the cabs of course, I think you get the picture.