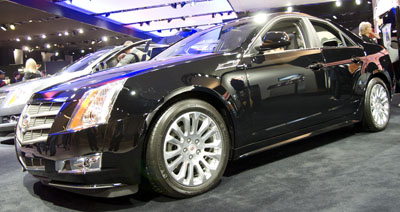 Pictured on the left is the 2011 Cadillac sport sedan that was taken at the New York Auto show at the Jacob Javits center in New York City. This car was really a tough task to photograph with the position of the lights on the ceiling.
For years, Cadillac, like many of its customers, has been bumping around Ft. Lauderdale waiting to die. Left blinker on, 35 MPH.

So in 2002, GM brass decided to replace the unpopular "Zig" Cadillac Catera with a new car called the Cadillac CTS. Unlike other Cadillacs of its day, this one had bold angles, and a suspension that wasn't made from marshmallows. It was a luxury car for the 21st century, and it would help to reestablish fabled car brand as an international player in the premium car game.

Looking to build on their success, a new Cadillac CTS was introduced in 2008, complete with suspension bits from the previous Cadillac CTS-V. The new car was wider and longer than the previous model. And buyers could now opt for the General's new 304-hp 3.6 liter V6, with a 6-speed paddle-shifted automatic (a row-it-yourself 6-speed manual was also available).

Thanks to Bob Lutz's corporate quality directives, the build quality on the current Cadillac CTS is far superior to the first generations. However, there are still some hints to this car's mass production roots. If you're looking for an Audi A6 alternative, look somewhere else. But if you want a really nice car that's distinctly American, this is the car for you.

For 2011, 5 trim levels are being offered; Base, Luxury, Performance, Premium & CTS-V. The Base (which gets vinyl seats & sideburns) & Luxury models get the 270-hp 3.0 liter V6 with the manual transmission. But most will likely leave the factory equipped with the automatic.

Performance & Premium trim cars get the 304-hp 3.6 liter and the autobox, but the 6-speed manual is available as an option. If you elect to row-it-yourself, you can expect a heavy clutch and decently precise gear changes. But again, most people will probably choose the Easy-Button automatic.

All-Wheel Drive is an option, along with a sport suspension & 19-inch wheels. 17-inch wheels come standard, and 18-incher's are standard on the CTS Premium. A Limited-slip differential is also an option, however if you value ride quality (and your spine), you may want to avoid the sport suspension & big wheels.

Inside, the 2011 Cadillac CTS is nice to be sure. But the big metallic trim piece surrounding the dramatic center stack (to some) comes off as a bit...Costco. That said, you can get a lot of toys to play with including; 999-way heated & cooled power seats, Bluetooth, IPod connections, Bose audio, Navigation, a backup camera, ambient lighting, keyless ignition, & a panoramic sunroof.

All in all, the 2011 Cadillac CTS is a really nice American luxury car that on some levels, does compete with more expensive European luxury cars. It may fall a bit short in material quality, and performance, but that's ok. The next generation Cadillac CTS will probably take the BMW 5-Series to the cleaners.
See some other Cadillac models from 2011. 2011 Cadillac SRX, 2011 Cadillac CTS Coupe, 2011 Cadillac video.

You can see more pictures and video from our New York Auto show pages.