We have looked all over the internet for parts for Cadillac's especially the Cadillac Escalade model since they have taken off and been a huge seller for the last few years.
Floor Mats For Your Escalade
You can get new floor mats for your escalade in whatever color you wish with custom-made floor mats are available in hundreds of colors and are tailored specifically to fit your car. Custom Floor Mats - FROM $54.95 (Hot Seller) You can also use the wizard at DriveWerks to find the perfect color to match your Escalade.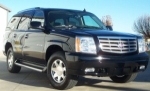 If you want to show off your Escalade send us a picture or two and your story we will make you a page right here on this site and you can show it off to all your friends. This picture was sent in by Chris from Australia. You can see more on the Cadillac Escalade pages.
I am always surprised that people go through floor mats faster that I hear about with other Cadillac's. Maybe more people are using the Escalade in rural areas I just don't know. If you know why this is or have an idea leave me a message on the blog that is listed on the bottom of this page or send me an email.
The most E-mails I get are people looking for car covers for their Cadillac Escalade, We have found a great resource for them also. We have a lot of fun things for your Cadillac Escalade from Custom Car Covers Yep that's right you can chose the color and fabric that covers your Escalade.