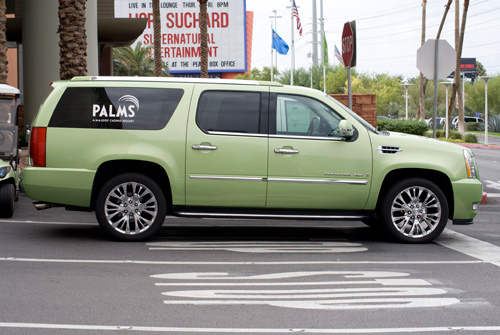 When Cadillac came out with the Escalade it changed the game when it came to SUV's. in 1999 Cadillac decided to get into the SUV game and go head to head with Lincoln Navigators which had been launched a few years before with big success.
Of course Cadillac is known for making a superior vehicle and that is exactly what people wanted. Cadillac didn't let their fans down although for die hard fans the Escalade was way out of the line of thoughts of many.
Cadillac gave the Escalade a big V8 that generated plenty of power. Of course with this power came a lack of gas mileage. Most people didn't care that made the switch as most SUV's come with bad gas mileage in the first place. The Escalade was a big part of the "Art and Science" plan that catapulted Cadillac back into a brand that customers can trust again.
The Escalade comes in many forms as you have the Escalade ESV( pictured above), the EXT which looks like a huge pickup truck, and of course the regular model. We saw the first Escalade Hybrid at the New York auto show, I think it was 2008. You can see them on our Cadillac video page. We also have many pictures on our Escalade pictures page.
Many people say that Cadillac rejuvenated the company by launching the Escalade since sales have been on the downturn in the 1990's. I would have to agree with this.
f you are like me you like to play with Cadillac's any time you can. Actually these make great gifts for the kids to play with. I like to play with the real Cadillac Escalade though.
Kids love these as they get to have a truck that looks like dads, it makes them feel closer to them. These are from a leader in the RC Industry Amazon Cadillac Escalade
Cadillac Escalade RC Cars and RC Trucks
Imagine your kids face when they open this present up. These also make a great gift idea for the husband that owns a Cadillac. If you have a little one and you want to get them the same car that Daddy has you can't go wrong with the Classic Kids Cadillac Escalade.