Cadillac Club : Cadillac Fleetwood
Cadillac Fleetwood
THE CADILLAC FLEETWOOD Through The Years
A Larger than Life Legend
The Cadillac Fleetwood has been around for over seventy-five years, making it one of the oldest Cadillac models. However, the Fleetwood name was retired in 1996, which caused a lot of heartache and sadness for die hard Cadillac fans.
During the twenties and throughout the decades until the seventies, the Fleetwood was used to describe the top of the line trim for the Series 70 and sixty specials. However, in 1976, the introduction of the Cadillac Fleetwood Limousine made its debut, as well as the Fleetwood Brougham, which was available in both the two-door coupe and the four-door sedan. Throughout the eighties the Fleetwood underwent various changes and offered their drivers a luxury sedan for a reasonable price.
During the early and mid-nineties, the Cadillac Fleetwood went through yearly changes in hopes of updating the vehicle. In 1994, the Cadillac Fleetwood became one of the first vehicles that incorporated a Corvette derived engine under the hood. This gave the Cadillac Fleetwood more power than ever before. In 1995, the Fleetwood got an over-haul on traction control, opting for an on/off switch, as well as new platinum tipped spark plugs, and larger, folding outside mirrors. During the final season, the 1996 Cadillac Fleetwood remained basically unchanged as many Cadillac lovers dove into their dealership for the final viewing.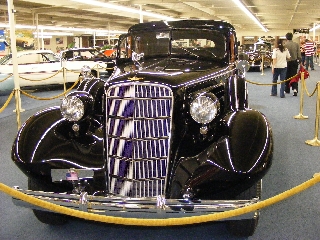 The then popular rear wheel drive vehicle was on its last breathe. But not without glory, this 5.7 liter V8 monster could race down any interstate and still maintain its yacht-like smoothness. It was roomy and big, offering its drivers the ultimate in road travel, as well it was as sturdy as an old horse, with optional towing capacity of over 7000 pounds. And letís not forget the cargo space, virtually enough room for a smaller foreign car, no doubt.
The Cadillac Fleetwood, the larger than life legend, a gas guzzling 19-foot long vehicle that will most likely never be forgotten is now almost 10 years passed itís demise, still, Cadillac owners morn its loss, there will never be another car quiet like this legend.
This picture was taken in Las Vegas at the Auto Collection show in the Imperial Palace casino back in January of 2009. I visit there often and take pictures of all the classic Cadillac's.
I have just received an email from a new member, her name is Louise who owns a 1957 Fleetwood. She bought it as a Christmas gift for her now husband. What a lucky guy he is :) Thanks for sending in this great picture.