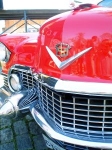 If a person follows the history of any type of car in the United States from its roots to the current models we see today they will notice that many things will change on these vehicles over the years. They might get smaller or larger, they might change colors and get sleeker, or they might even change so drastically that a person almost doesnít recognize what kind of vehicle itís supposed to be. But one of the easiest things for anyone to notice especially car enthusiasts is the grill of an American automobile. Over the years Cadillac has changed the grill of their vehicles many times. Read on and learn a little history of how they have looked through the years.
The 1932 Cadillac was a very stylish car in most peopleís eyes. It sported a flat grill which was actually built into the radiator shell. The 1933 Cadillac sported a very different look from the previous year. This grill was almost V-shaped and seemed to blend back into the car and the radiator shell.
By the late 1930s and early 1940s the Cadillac Company was changing the grill style and the style of the car dramatically. These grills were very pointed and there were less grill bars going across them when compared with the earlier Cadillac models.
By 1949, the grill had changed again and had an entirely different look. It was then long and flat, going across most of the front of the car, which was a big change from just a few years earlier. At this point in time, the grill had dwindled down to only 1 horizontal grill bar.
By the early 1960s, the public was at a point where they were favoring minimalism. The 1961 Cadillac shows this point when one looks at the grill. It was a very simple grill that was lean and led to a very different look from its earlier counterparts.
Through the years the looks of the Cadillac grill may have changed, but the popularity of such a wonderful car has stayed the same. One of the other things that has changed over the years is the Rims that people are putting on their Cadillac's. A few weeks ago I saw a black Escalade on 8th avenue in Manhattan that had a gold grill and matching gold rims.
It seems that many of the younger generation like to what they say as "pimping a Cadillac". The only other time I had seen this was at the car show in Las Vegas where they had a special car that was custom made. If you want to see more about rims you can see more on the Cadillac rims page.