Cadillac STS
THE CADILLAC STS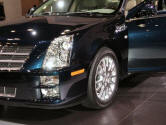 The prodigy son has finally arrived…the Cadillac STS, yet another alpha name to the pages of car history, has finally made its debut. So what's the Cadillac STS have to offer their drivers?
According to reviews and expert opinions, the Cadillac STS is a very luxurious ride and an over-all sharp car, and better yet, a car that can compete nicely with its competitor, the Audi.
For all those readers that aren't car enthusiast, the Cadillac STS is the reincarnated Seville. In fact, Cadillac offered the STS as an optional upscale trim level of the Seville previously, however, no longer an upscale option…now it's the only option. Well, that's not totally true; soon there will be yet another offspring, the STS-V, which enters the market in 2006.
The Cadillac STS, which stands for Seville Touring Sedan, offers many other standard upgrades, as well. For instance, a very large wheelbase of 116.4 inches, however an overall shorter body style.
There's more interior space than the former Seville and even the famed Audi. So, what's lacking on the Cadillac STS? One look at the car and most buyers will notice the obvious, there's a shorter, squared off trunk, in fact overall trunk space was shortened by 2 plus cubic feet. But who wants to haul cargo in a luxury sedan, anyways?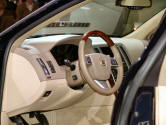 The Cadillac STS is considered General Motors mid-size luxury car, however, the price is anything but "mid-size" in fact, it's the cost of a small home in Kentucky. A whopping base price of $40,000 plus, add all the amenities of home and you're paying upwards of $60,000.
As far as driving and overall performance, the Cadillac offers the STS in an all-wheel drive option, as well. This is a first for Cadillac Sedan lovers. The 2005 model of the Cadillac STS is offered with both a V6 with 255 hp and the 4.6 Northstar V8, with 320 horse power. But hold on to your socks, the even newer model, the just under $80,000, STS-V hit's the roads this fall with a supercharged 469 hp Northstar V8. Cadillac has even promised future driver's the ability to go 0 to 60 miles per hour in less than five seconds; that's a pretty good start, wouldn't you think?