Cadillac Club: Cadillac Wheels
Cadillac Wheels
Wood to Metal: Cadillac Wheels through the years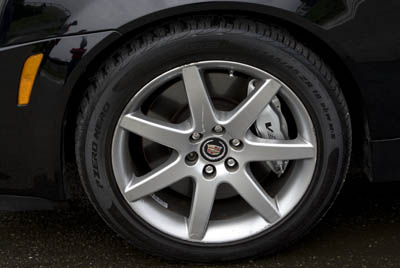 Most people of a young generation probably think of the term "bling-bling" when they casually hear the word wheels. But for those of us you who have been around a while longer than those young folks or for those like myself who surf the internet to learn obscure information, we know that wheels haven't always been the sparking chrome and gold variations that you can find today at an accessory store. After researching the internet I have learned that many wheels including Cadillac wheels have changed tremendously over the past 100 years.
The 1909 Cadillac actually came out with wooden wheels and rims, a very different thought for most of us. It seems strange to me that the wheels would be made of wood with 10 or 12 spokes less than 100 years ago. When I think of wooden wheels and spokes, Western movies and the Oregon Trail come to mind. Ten years later, the 1919 Cadillac showed some minor changes concerning the wheels. They still came with wooden wheels, but for a bit of extra cash, one could add the option of Rudge-Whitworth wire rims.
If we skip ten more years into the future to 1929, we find that the Cadillac still had wood artillery wheels but once again the wire wheels could be added for the grand price of only $95.00. By 1940 the wheels had changed dramatically. They took on a whole different look that more resembles the wheels that we think of today on a vehicle. These wheels were slotted disk metal rims.
Sometime during the thirties they must have decided that wooden wheels were a thing of the past. By 1956, buyers could choose between a standard satin finish grilles or an optional gold finish, either of these choices came with a Cadillac logo on the left hand side. As the years progressed the Cadillac wheels continued to become more of the wheels that we see today.
There have been many improvements of the years to the wheels, you can see this if you look at the wheels on either an Escalade or an XLR. If you are looking for tires for your Cadillac I suggest going to Discount tire. I get asked a lot in emails about the proper tire and I always send people to EBay.
Pictured above is wheels on a 2005 Cadillac CTS-V.