Escalade
THE CADILLAC ESCALADE: THE LUXURY SUV
The name Cadillac has always been synonymous with luxury and comfort, therefore when Cadillac launched their line of sport utility vehicles, in particular, the Cadillac Escalade, many felt Cadillac was entering uncharted waters. However, the success of the Cadillac Escalade has surpassed all expectations, making it one of the most wanted vehicles in the United States. This comes as no surprise to me at all. It has become popular with the younger generation as well as baby boomers you want a little excitement in their lives just like me.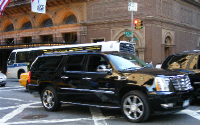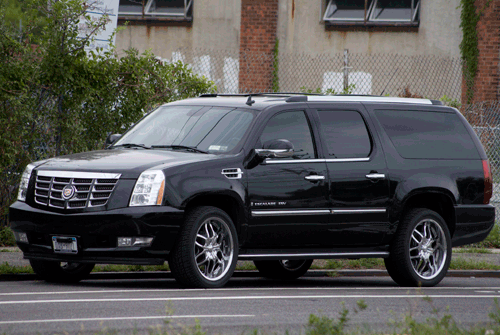 First introduced in 1998, the Cadillac Escalade joined many of its rivals in the automobile industry, similar in looks, as well as function. It was, however, drastically reinvented in 2002. For starters, the engine- a first of itís kind, and perhaps the fastest engine ever to be put into a large SUV, a 345 horsepower Vortec 6000 V-8, capable of going from 0 to 60 in approximately seven and a half seconds. There were other features that were improved, as well, like for instance, larger interiors with roomy seats, consoles that featured 6-disc CD changers, as well as immense electronic sophistication. Pictured on the right is a black Escalade that I saw in New York City by 57th street in front of Carnegie Hall.
As with any hunk of machinery, the Cadillac Escalade is far from perfect. Although, it boasts of having plenty of interior room and space, itís lacking when it comes to the second and third row seating and foot room. You don't mind this if you are the driver. As well, the accessibility to the rear seating is a bit complicated. But unless you plan on riding in the back seat, you basically have little to worry about. Below you can see some video courtesy of Google. Click on one and see all the many models that Cadillac has put out over the years.
Over all the Cadillac Escalade ranks high among sport utility vehicles, offering style and function, not to mention a really fast and great handling vehicle. I like the reaction of the people when I drive one down the street, it seems to make heads turn as it is the king of the road in my mind.
Because the popularity of the Escalade rivals none, you may want to think twice before buying this vehicle. The average price of a Cadillac Escalade will run a buyer around $50,000. Not to mention, the insurance premiums for a Cadillac Escalade can break the bank. Most likely due in part to the fact that the Cadillac Escalade is the most wanted vehicle in the United States. Well, at least to thieves, that is. In fact, since 2001, there were more claims filed every year regarding the theft of a Cadillac Escalade than any other car or SUV on the road. This just goes to show you that even thieves have exceptional taste.
If you had the same problem as one of our members (Bruce from NJ) that had the hubcaps stolen from his I can point you to where he got his replacements Hubcaps.com.