Pink Cadillac
THE INFAMOUS "PINK CADILLAC"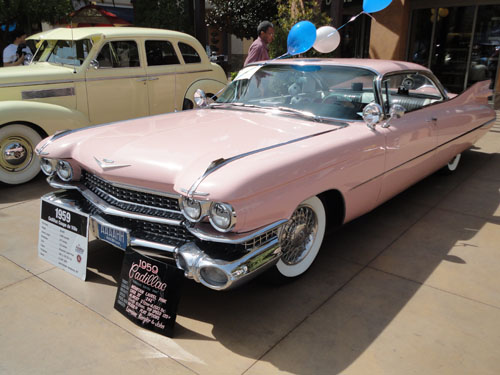 The infamous pink Cadillac will no doubt go down in history as being one of the most popular and talked about, as well as, sung about cars in the entire world. Furthermore, the infamous pink Cadillac has become a stable in modern society, especially if you're a Mary Kay representative. The burning question is which came first, Elvis and his many Cadillac's or the fleet of pink we all know as Mary Kay? Read on, and you will soon find your answer.
These pastel beauties have been on the road since the fifties and still continue to grace us with their presence. There's nothing more eye catching than a baby pink caddie driving down the road. Most Cadillac owners are conservative upper class individuals that prefer their cars in colors of black, white, red or blue; however, there were a few that held out for those eye catching pink ones, you know, think Elvis!
For those few people that actually own one of these pastel beauties, there are clubs, newsletters, and even websites dedicated to their pink cause. But now-a-days, most pink Cadillac's belong to the independent sales representatives of Mary Kay cosmetics. The Mary Kay pink Cadillac incentive program started in 1969 and continues to this day. However, most Mary Kay representatives that reach their sales goal for this pink passion opt for the $30000 instead.
There has been a tri stage pearl version of Mary Kay pink since 1998. The pastel pink was available up to 2001. Starting in 2002, the solid version was eliminated, and the color became exclusively a tri stage pearl, and in 2004 the tri stage formula was changed to a newer brighter one, which gives it the look you see on the newer Mary Kay cars. Ironically, rumor has it that if a Mary Kay representative sells their car, they must first pay to have it painted white, who knows if this rumor is true; but it's an interesting thought.
Mary Kay Ash also had an affinity for pink Cadillac's. She began her make-up business in 1963 with only $5000 and a dream. After only 6 years in the business she gave away her first pink Cadillac to one of her top salespeople. Throughout the years more and more women have earned the prestigious honor of being a top salesperson and receiving one of these unforgettable cars. There are now over 10,000 cars in the Mary Kay fleet throughout the world today (one of the largest company fleets in the United States). Many of these are pink Cadillac's are visible representations carrying on the dream that one successful woman started over forty years ago.
There is no doubt that the era of the pink Cadillac is dying, not only for those Mary Kay consultants opting for the cash, but as time goes on, the masterpiece pink caddies of the fifties and sixties have made their way to museums and collector garages. However, if you're ever visiting Memphis, I'm told you can visit Graceland in a rented pink Cadillac just for kicks.
Elvis Loved His Cadillac
Elvis' first Cadillac was a pink and white 1954 model. After only three months of driving this beauty, it caught on fire as the result of a faulty brake line and it was time for a new one. After searching for a short time he found the perfect car. This next pink Cadillac in his life was a 1955 Fleetwood 60 Special. This was rumored to be one of his favorites of the many Cadillac's that he owned through the years. He originally bought it for his mother, although she never drove it and he nicknamed it the "Elvis Rose".
When people think of a "Pink Cadillac" many things may come to their mind. A familiar song might begin to run incessantly through your mind or if you are of the female persuasion, perhaps you think about the first time you were invited to a make-up party as a teenager or young woman. click here to see a cool video of a pink 1959 Cadillac. I even have pictures of a Pink Cadillac Escalade in Las Vegas.