Hope you are all having a great week. This weekend was good as I watched the Barrett-Jackson auctions the whole weekend. There were plenty of classic cars and classic Cadillacs up for auction. This year they had something called fantasy bidding and you could win an IPad. I guessed right on one auction but so did a lot of other people so I didn't win but such is life. Will do better next time they have it.
Video Monitors in Cadillac
Just came across this cool classic Cadillac that has installed video monitors. Yes I said Classic Cadillac with video monitors. Some might think this ruins the Cadillac but I think it is rather cool.
1953 Cadillac For Sale
Here is a beauty! A 1953 Cadillac for sale that is in great shape. This site has a ton of great pictures too. If you are in the market for a classic Cadillac I want you to check it out.
Alan Jackson Give Zac Brown a Cadillac
Country singer Alan Jackson surprised his buddy Zac Brown with a white 1966 Cadillac convertible. It was his way of saying thanks for letting Jackson sing on "As Shes Walking Away". Wish they had asked me to sing on the record. I am sure many of you would have jumped at the chance now that you know you would get a Cadillac as a present.
Resizing Pictures From Las Vegas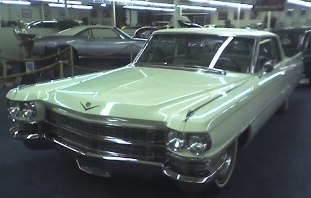 On our recent trip to Las Vegas and the auto collection show we took over 2000 pictures and I am editing them as we speak. When they are ready I will shoot out an email. I am looking forward to sharing them with everyone. In the meantime check out the 1963 Cadillac page from last year.